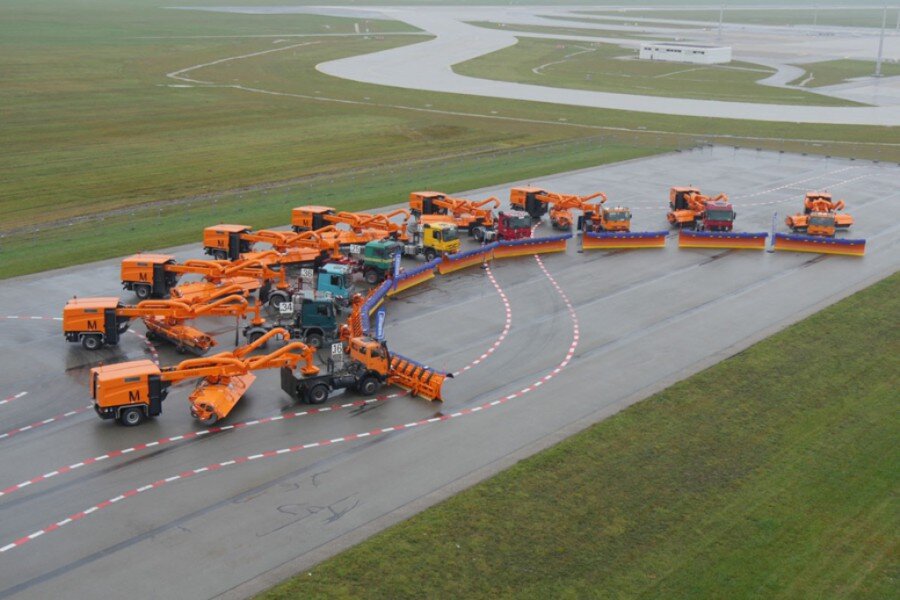 Ready for Take-Off despite Ice and Snow at Munich Airport
Start of second season for Schmidt TJS jet sweepers at Munich Airport
An exciting insight into the work of 9 Schmidt TJS630 jet sweepers at Germany's highest-situated commercial airport
The new TJS630 jet sweepers at Munich Airport have successfully mastered the first winter season and the second one is just around the corner. Munich Airport is located 448 metres above sea level, making it one of Germany's highest-situated commercial airports. This is why the international hub has to contend with heavy rainfall and large amounts of snow more often than other airports in Germany. The removal of ice and snow thus involves a great deal of winter service work every year. On peak days, up to 400,000 m3 of snow have to be removed. Munich Airport is already cleared when as little as two to three millimetres of fresh snow have fallen. As many as four million square metres need to be kept free of snow and ice and a total of 640 experienced staff members take care of this task, among them 390 local farmers, who go on a "snowflake hunt" with more than 155 vehicles to keep the air traffic going.
Since September 2014, the vehicle fleet of Flughafen München GmbH has also included nine Schmidt TJS630 jet sweepers. Equipped with a front-mounted Schmidt MS 80.1K snow plough, every single one of these giants weighing about twelve tonnes is capable of clearing snow over a width of 5.5 metres in one go. It takes only 30 minutes for these vehicles to completely clear a four-kilometre runway of snow and ice.
Customised solutions for maximum efficiency and effectiveness
Being an innovative system provider offering customised problem solutions, Aebi Schmidt has developed a towed jet sweeper (TJS) for clearing runways and aprons that is exactly tailored to the requirements of Munich Airport. For example, the vehicles have been fitted with a ring brush and a quick-change device, in addition to optimising the blast nozzle by including the airport's experiences into the development.
One year after the handover, Munich Airport can look back on a successful first winter season. We have asked Mr Günther Schmitz, Head of Fleet Management of Flughafen München GmbH, about his experiences during the first season:
Günther Schmitz: "The new Schmidt TJS jet sweepers were in operation for nearly 150 hours at relatively mild winter temperatures and have proved to be both powerful and reliable. The collaboration with Aebi Schmidt was very constructive and professional at all times. We received competent support during the various project phases from the specification of details to the acceptance of the machines and also had the opportunity to contribute our own experiences and requirements."
One of these customer-specific requirements is the so-called ring brush, which also needs to be completely exchanged within only 20 minutes. Günther Schmitz explains the benefits of this ring brush in practical application:
 "According to our experience, cassette brushes tend to cause a so-called pumping effect, which means that snow is pushed between the two brush sets as if by a pump and then falls down again behind the brush so that the blower is no longer capable of removing that snow. After conducting our own test runs, we found out that the best results can be achieved with a ring brush. Optimum clearing results also mean leaving behind as little residual moisture as possible to save de-icing material. This saves costs while also benefitting the environment."
Moreover, blast nozzles have been fitted both behind and in front of the brush in order to improve the sweeping result and the cleaning effect.
Günther Schmitz: "The experience of the first season has shown that the blower performance is excellent. The driver can adjust the blower performance in four steps from 0 – 100%, depending on the consistency of the snow. But performance is not the only thing that matters. It is also important that the strong air flow across the surface is not only laminar (i.e. without turbulences), but also absorbs as much moisture as possible from the pores of the flight operation areas so that the subsequent dilution of the de-icing material and thus the resource consumption is kept to a minimum – at any speed, of course."
Another requirement for placing the order was that the jet sweeper features rear-axle steering, which makes it possible for the rear end to follow the track of the truck without any problems, ensuring that the brush is perfectly covered by the plough even when cornering. As a result, the full clearing width can be used and fewer machines need to be employed. Another clever solution mentioned by Günther Schmitz is the automatic adjustment of the sweeping pattern, which is very easy to operate and is automatically readjusted during operation.
Aebi Schmidt also draws a positive conclusion from the collaboration with Flughafen München GmbH. "We are very proud to see our vehicles in action at one of the busiest airports in Europe. Owing to the close collaboration and the constructive exchange with the persons in charge of the airport's vehicle fleet, we have gained valuable experiences, which we can now utilise in our airport equipment product portfolio", Andreas Fritzsche, Key Account Airport and Projects, sums up. "Our customers expect reliable and durable products. However, Aebi Schmidt also attaches great importance to not only enthusing its customers with the technical performance of the vehicles, but also offering added value in terms of profitability and comfort, whether in the form of technologies to reduce CO2 emissions, intuitive vehicle control or guaranteed support round the clock, 365 days a year."
To Flughafen München GmbH it is clear: These investments into towed jet sweepers has paid off. The team vehicle management led by Günther Schmitz and the team winterservide led by Markus Sellmeier are thus also optimally prepared for the next winter season to keep the air traffic going and be "ready for take-off at MUC" even in snow and ice.