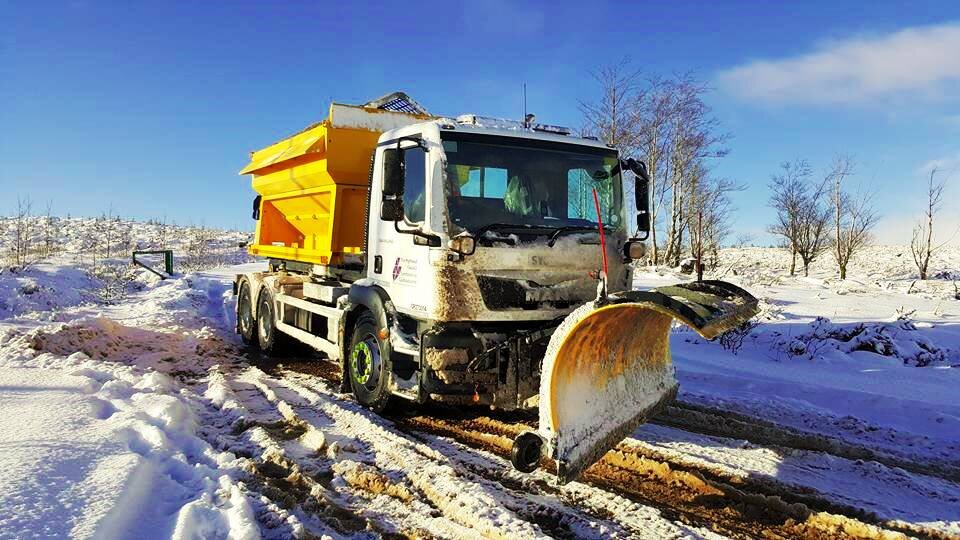 Highland Council relies on Schmidt Machines
With an area covering 4,200square miles, the largest municipal area managed by any council in Europe and including all different types of imposing and challenging terrain, Highland Council has a mammoth winter maintenance task.
This year that has been exacerbated by some of the worst winter conditions since the last really severe winter of 2010/11, and freezing daytime temperatures have made the task doubly difficult as treated surfaces quickly re-freeze, making for treacherous driving conditions.One of the staff responsible for managing this Herculean winter maintenance task is James MacDonald, Transport and Logistics Manager within the Community Services department, who have a £5 million annual winter maintenance budget. However, he knows a thing or two about tackling severe winter conditions having been, previously, Senior Transport Engineer for Highlands and Islands Airports – where he also came into contact with some of Schmidt's winter maintenance equipment.
The Highland Council operates a winter maintenance fleet of 105 gritters, and some 40% of them are currently Schmidt machines. The latest batch of seven Schmidt Stratos III New Generation spreaders were delivered late last year, ready to cope with the challenges of the 2017/18 winter – and the timing has proved to be ideal due to the severity of this year's winter north of the border.
The main trunk road network is the responsibility of the Scottish Government and its roads agency, Transport Scotland, has contracted out the work of maintaining Highland trunk roads to BEAR Scotland.However, that leaves Highland Council with a huge variety of adopted surfaces to treat from town centres, urban estate roads, A class principal roads, B-class country roads and some very  remote and tortuous C and U class rural roads across the whole of Highland.
It's a task which has meant the Council's own DLO workforce have often needed to work around the clock this winter to keep the council's roads snow clear and ice free, and has required huge amounts of dry salt so far. Mr MacDonald estimates that the winter fleet has already used as much salt this year as the whole of last winter.
"In an extreme snow event we may use 2,700 to 3,500 tonnes per day across the whole of the Highlands," he says. "Based on the salt we have in supply of just under 40,000 tonnes, if there was extreme weather across the whole of the Highlands deploying our entire gritter workforce we have more than 10 days resilience for our entire 4,200 mile network."
Thankfully the Schmidt Stratos III spreaders have proved to be equal to the task so far this winter, having been specially designed and field tested in some of the world's toughest winter regions, including North America and Scandinavia. That gives them the resilience to cope with the severest winter conditions, and makes them more than up to the job of coping with the worst a UK winter can throw at them, including the Arctic-like conditions that have hit Scotland recently.
They are popular with the drivers, too, as they are linked to control systems that are easy to use, flexible and intuitive as possible, capable of tackling and adapting to varying degrees of winter severity. The latest state-of-the art ES Control Panel has been implemented in the Stratos III New Generation spreader and is the nerve centre of the machine. A frost-proof seven inch colour touchscreen display in a splash-proof, sturdy housing is easy to operate and long-lasting.
Meanwhile, the spreading density, spreading pattern and spreading width are adjusted via ergonomic click-turn control knobs, while other menu-dependent functions are accessed by eight additional illuminated push buttons.
"The drivers like the ES control panels as they are easy to use and do what they say on the tin," says Mr MacDonald. As with all Aebi Schmidt equipment, the Stratos III spreaders are backed by the company's Total Lifetime Care (TLC) commitment, which is designed to maximise the life and value of all its equipment and provide complete peace of mind for customers.
The TLC commitment includes a fully comprehensive portfolio of Servicing, Parts, Warranty, Calibration and Training solutions, while a dedicated team of fully trained in-house support staff ensures that all customers' service needs are met to the highest standards.
"Customer service levels are very good. The Schmidt team in Glasgow reacts very quickly to any issues we have and provide an excellent service to ensure our machines are kept on the roads as much as possible," says James MacDonald.
With the scale of the task facing the Highland Council winter team this year, it's just the type of support and backing that they need.