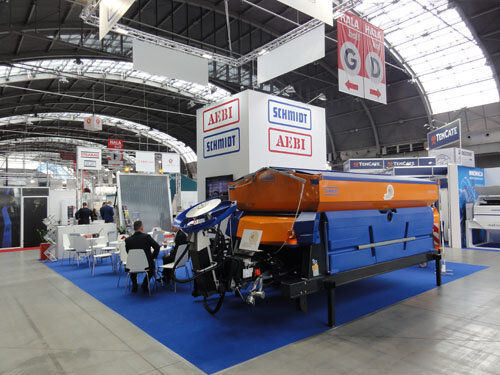 Stratos received Award at Autostrada in Poland
The Autostrada trade fair in Kielce, Poland attracted more than 14,000 visitors. 418 companies from 20 countries presented cutting-edge technologies at the international trade fair for road construction.
The appearance at the trade fair was also a resounding success for the ASH Group. Visitors were able to see a wide range of add-ons and attachments for use all year round. From the Wasa 300+ towed sweeper and a variety of snow ploughs through to the Stratos de-mountable spreader, the ASH Group once again displayed the wide variety of products in its range.
Aebi Schmidt Poland took particular delight in the real highlight of Stratos receiving an award. The spreader from Schmidt won over the jury with its great flexibility of use coupled with its high level of efficiency. The decisive factors for the awarding of the medal included the lifespan and the reliability of the machine. Thanks to the use of high-quality materials, the Schmidt Stratos impresses not only with its long lifespan but also with its lower maintenance costs. But the de-mountable spreader also stood up well on other competition criteria. For example, the jury was impressed by the innovative modular design as well. This allows the Stratos to be configured individually for the particular task in hand and the customer's operating conditions. In addition, the cleverly designed filter system also allows residual powder to continue to be used. Thanks to the award-winning spreading technology, the Stratos de-mountable spreader is also environmentally friendly and economical to use.