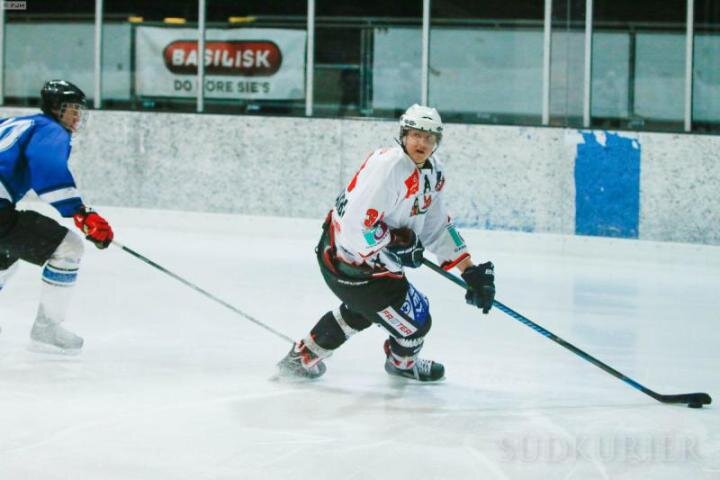 Jonas Schaueble has the Overview
Jonas Schäuble is 21 years old and is currently training to be a mechatronics technician in his second year of apprenticeship with Schmidt at the St. Blasien site. Ice hockey is his great passion. In the SÜDKURIER interview with Niklas Steinert, the 1.98 meter tall defender gives an insight into his hobby. He has been number 34 at EHC Herrischried since his youth and has scored three goals so far this season.
The home grown of the EHC Herrischried received the nickname "Tower" thanks to its height of 1.98 meters in the team. The Hotzenwälder did not start playing ice hockey until he was 13, but it quickly established itself as a fixture. Since last season he has also been the assistant to Captain Klaus Bächle and is known to be a reliable support in the defense of the White Stags.
Jonas, how much does your height of almost two meters help you as a defender at EHC Herrischried in ice hockey?
It helps me to keep a very good overview and to be difficult to overcome in a one-on-one duel. Nevertheless, I have to keep working on my body play and become calmer in the game.
How important is ice hockey for you?
For me, ice hockey is a very big part of my life. It's much more than just my hobby, it's my passion. Without ice hockey, I wouldn't know what to do with my time. In addition, we have all become good friends in the team and we practice the fastest team sport in the world together.
On Sunday evening, the White Stags in Langenthal play the last game of the season at EHC Herzogenbuchsee. What do you think of about the opponent straight away?
I'm really looking forward to the game against the Ice Kings. The EHC Herzogenbuchsee is definitely a very personable team. Still, we need three points for us to reach fourth place in the table. Sympathy no longer plays a role during the game.