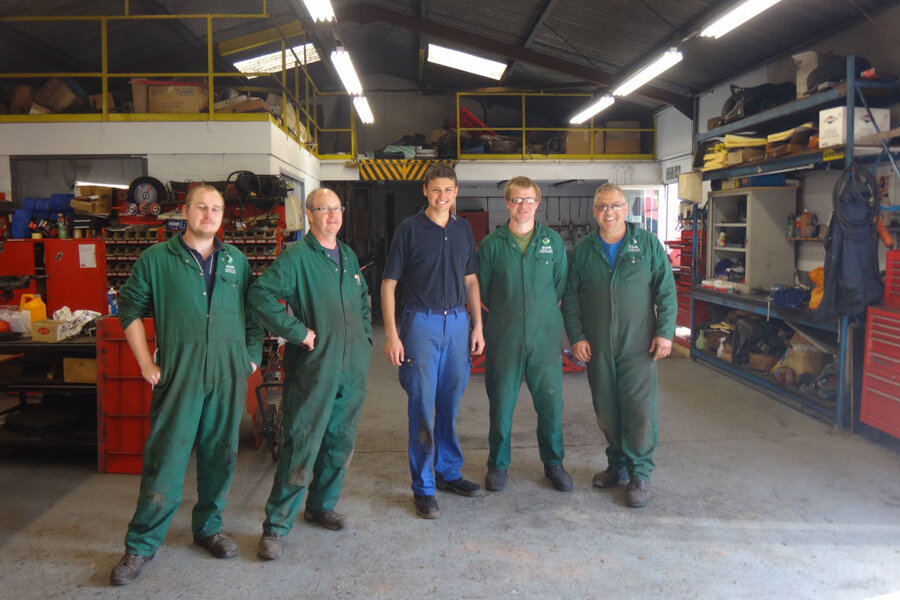 Go.For.Europe – An apprentice conquers great Britain
I am Paul Schlachter, 20 years old and a trainee mechatronics engineer at the company Aebi Schmidt in St. Blasien, Germany. After completing my studies at secondary school and attending a specialist electrical engineering college for one year, I began my apprenticeship in September 2013. The job of mechatronics engineer encompasses the role of both an electronics engineer and a mechanical engineer. It is precisely this blend that really appealed to me. I have been able to fully identify with the work I do here right from day 1. I am particularly fascinated by the large machinery such as our truck-mounted sweepers or the fleet of airport equipment. What is really great is that even as an apprentice I am allowed to work very independently. To know that the work you are doing is helping to ensure that such highly complex machines will go on to travel on the world's roads does of course also make me very proud.
I am now in the third year of my apprenticeship and I have spent time on almost all the production lines here at the St. Blasien factory. Last autumn I read by chance that apprentices can also spend part of their period of training abroad. When I went online to find out more detailed information, I then discovered that each year there are funded work placement schemes abroad in England, Italy and Spain. In my case, for England specifically, there were 18 places advertised for all industrial apprentices in the German state of Baden-Württemberg. As I had previously considered spending a little time working in an English-speaking country, this was the ultimate opportunity and a challenge for me at the same time. After speaking to my company, I decided to apply. My training instructor at the time, Mr Schweizer, supported me with my application right from the outset. Obtaining leave of absence from work for the four weeks was no problem. I also continued to receive my pay as an apprentice during this period. This was vital because without this money I would have found it difficult in England, which is an expensive country. In addition, through my company I also received additional insurance covering foreign countries, which I very much appreciate.
When my placement in England, specifically in the town of Torquay, was then confirmed in January, I was of course beside myself with excitement. The preparation phase then began. There were lots of documents and applications to complete… but then, following a preparation seminar in Freiburg, where all the participants in the scheme met for the first time, the day came. I set off on 8 May, travelling to Frankfurt and then flying from there on to London Heathrow. Torquay is a three-hour drive from London and is located on the coast of south-west England.
A little bit of home in a strange place
Once I got to England, the first week was taken up by a language course. We were then assigned to work placement businesses which were chosen to match the businesses we work in back in our home country. In my case, this was the company Devon Garden Machinery. By its standards, this is a relatively large business with 25 employees that repairs and sells garden equipment such as chainsaws, trimmers, lawnmowers and also large ride-on mowers. One of the reasons it was very interesting for me to be there is that the company also has Aebi machines in its range – it was like having a little bit of home in a strange place. All of the staff there were very kind and willing to help. However, when they spoke with each other, their English was very difficult for me to understand. But this was not a problem when they spoke to me. If need be, you could use body language to express what you wanted if you could not think of the right word.
The slightly different working hours, from 8am to 5pm rather than 7am to 4pm, and the different types of screws were new for me. As there are different standards and screw types in different countries, you need very different keys in different sizes to the ones we are familiar with here.
In our free time, we did of course go on a number of trips to explore the local area. We also encountered other groups of apprentices from Italy or Spain.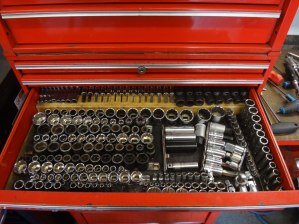 My verdict: I would definitely do this exchange again and can also really recommend it to any of my fellow apprentices. I now feel much more confident with my English. But what is equally as important to me are the experiences which helped to develop me as a person. These included being away from home for longer than a week, learning to live with new housemates and managing your own budget, and overcoming the challenge of explaining a complicated concept in another language.
I could well imagine in the future spending a longer period of time working in an English-speaking country because four weeks are of course much too short a period to learn English to a perfect standard. Maybe the opportunity will arise to do this at some point through the ASH Group – both the USA and England offer plenty of locations within our Group that would be a possibility.
Finally, I must thank all of the people involved who supported my plans and enabled me to enjoy this valuable experience.
Further information about the Go.for.europe project can be found at