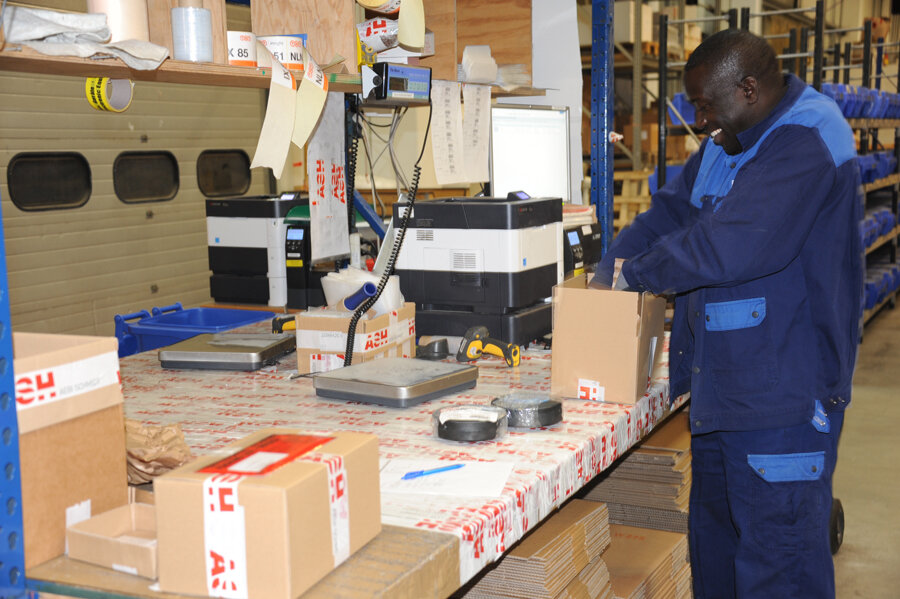 From A to Z – ASH Original Spare parts Logistic Chain
Any chain is only as strong as its weakest link. This is also true of a chain where it is particularly important for individual links to join together perfectly: the logistics chain. Logistics dictates the pace of any production operation. If it falters, it is only a matter of time before everything comes to a standstill.
A fully functioning logistics (chain) is therefore not just an important part of our production processes in our factories. It must also guarantee that our customers can be supplied with original spare parts across the full life cycle of the equipment and machinery. All year round and all over the world.
Since 2009, Laatzen near Hanover has been home to the ASH Group's central spare parts logistics centre. The infrastructure around Hanover offers the ideal location for operating a warehouse: there are direct links to the A7 and A2 motorways, many hauliers and shipping providers are based there, Hanover Airport is located nearby for air freight, and not least there is the advantage of the central location within Europe.
The man in charge of the logistics is Udo Posteher. The qualified freight forwarding specialist is a logistician through and through. Since 2010, he has been in charge of the spare parts business in Laatzen, supervising around 30 employees.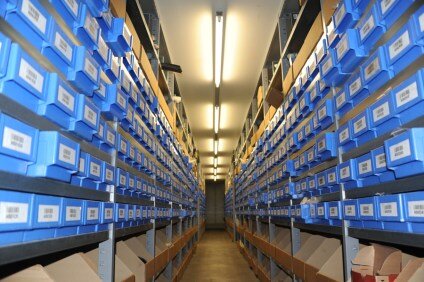 Over 5300 m2 of space inside, there are rows and rows of high-bay racks. There is then also 2800 m2 of outside storage space. Deliveries of goods are received at the warehouse every day and distributed to one of the 76,000 storage bays, more than 44,000 spare parts in total are actively stocked – ranging from screws to an 8-metre-long roller core. 1267 different suppliers deliver goods to the logistics centre. "Many of the spare parts feature our know-how or individual adaptations. But every single one of them boasts our high demand for quality," says Udo Posteher. "Every spare part is thoroughly examined again before it is sent out and all original parts come with a 12-month guarantee. In addition, the use of ASH original parts guarantees that the machines will work optimally and that all general legal conditions relating to machine safety and operator safety are complied with."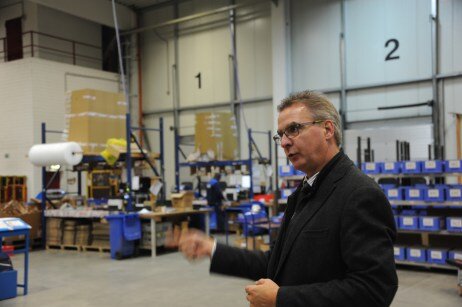 Not all warehouses are the same, and not all logistics operations are the same either. The fact that there is plenty of business know-how behind the operation of the ASH Group's central logistics centre is clearly illustrated by looking at the structure of the organisation. 12 members of staff are employed in purchasing and administration. "As a central spare parts centre, we are essentially a company within a company and we are responsible for purchasing the parts ourselves," explains Udo Posteher and in so doing also reveals the biggest challenge: "The demand for spare parts from our customers is heavily dependent on the season and weather conditions. If the winter is mild and dry and the winter maintenance vehicles are only rarely deployed, the demand for new cutting edges, spread pattern adjusting motors or conveyors is also low. On the other hand, if it snows for a prolonged period of time over large areas of Europe, things really get busy here. Our challenge is therefore to predict each year what sort of winter we will have and to stock our warehouse accordingly to ensure that there are no shortages, but that at the end of the season we are not left with any surplus stock either." Udo Posteher does not have any secret formula for doing this. "Relying on old rules of thumb would just be speculation. Even computer-aided software which uses various mathematical models to evaluate past data and come up with a prediction for the future based on this does not really help us in this case as there are no regular laws when it comes to predicting the weather. The only other option is to gaze into the crystal ball."
From Laatzen to the world in 48 hours
Around 300 deliveries are put together and shipped to customers every single day. During the peak winter season, there may even be as many as 500 shipments. The staff then work in three shifts from 5.00am until midnight to ensure that the goods which are ordered get to where they are needed as quickly as the customer has come to expect. "98% of orders are shipped to customers all over the world within 24 hours," says Bernd Grote, head of warehouse logistics. "With national overnight shipping when an order is placed before 2.00pm, customers will receive the package by around 8.00am the next morning." The processes for assembling the goods are optimised right down to the finest detail. For example, orders are not picked as a whole order, but rather staff working in different zones collect the parts required for different orders. The computer recommends the most efficient route to take. At the packing station the order is then put together and prepared for shipment. "This enables us to make use of synergies and keep distances travelled short," explains Bernd Grote. When it comes to shipping, the company works with different service providers. This not only ensures the greatest possible flexibility but, in the event of a strike, as happened at DHL in the summer of 2015, for example, makes it possible to switch to alternative providers and still guarantee the delivery. Plenty of work and hard toil goes into this because, as well as day-to-day business operations, several times a year new product launches or the phasing out of certain products have to be considered in the spare part logistics. Then there are also complex issues such as international trade legislation or customs regulations which are constantly changing. So spare part logistics is anything but dull. Udo Posteher is proud of his team. A good working environment, a motivated workforce and a low level of staff turnover all help to ensure that the logistics chain of the ASH Group does not falter. For it is only ever as good as the people behind it. This is why as an active training business we make sure that we recruit skilled workers from our own ranks and thus carefully pass on our logistics DNA to the next generation.