Are all season equipment and vehicles the new gold standard?
The Tyrolean state government uses spreaders in both summer and winter. Meanwhile, Estonian service provider EKT Teed OÜ relies on a carrier vehicle with a interchangeable system that can be used all year round. Will soon all of our machines be multipurpose and usable all year round? We spoke to Henning Schröder, Head Group Technology, and Gerhard Neudorfer, Head Sales Europe.
Implement carriers are embedded in our Group's DNA. The Aebi Terratrac, the municipal transporters, the Schmidt Flexigo and plenty of other machines are genuine all-rounders that can be used in any season. But spreaders that can also be used in summer are yet a relatively new. Are we likely to see more of such solutions in the future?
Gerhard Neudorfer: I firmly believe that we will. These days, city and municipal councils can't generally afford to just leave a vehicle parked and idle for six months, nor do they want to. It's important to use taxpayers' money as efficiently as possible and save resources. That's why I think the trend towards vehicles that can be used all year round is set to continue.
Henning Schröder: In fact, it's set to grow as things go electric. Operators will make even greater efforts to maximise the operating time of electric vehicles within the fleet so as to make the best possible use of advantages in terms of sustainability, noise reduction and driving comfort. Multipurpose carrier vehicles can make a key contribution to achieving this goal.
Does that mean we'll only offer multipurpose equipment for year-round use in future?
Henning Schröder: I doubt that, somehow. Designing our machines in such a way that they can be used in more than one way is already an integral part of our product strategy, specifically for application purposes where it makes sense and is technically possible. But large compact sweepers, to give one example, are used all year round in regions that don't get much snow, and that will go on being the case. So it wouldn't make sense to adapt the design so that they can also spread salt. However, it does make sense for our smaller all-rounders, which is why we're offering that option.
Gerhard Neudorfer: As Henning said, the focus is usually on the carrier vehicle. Service providers and equipment rental companies in particular can't afford long downtimes for their vehicles. Today we not only offer machines that can be used in more than one way, but also interchangeable systems that allow you to switch between spreaders, flatbeds, tank bodies, tippers and other equipment in a few simple steps. As time goes on, we'll see the kind of system that's already working with the Flexigo being increasingly extended to our larger machines.
Henning Schröder: The goal must be for customers to get the most out of the specific benefits without us needing to develop everything separately for individual customers. At the same time, we can't compromise on machine performance at the performance of individual applications. If a machine can be used for multiple purposes, so that it is efficient on that level but then doesn't deliver superb performance in its individual applications, we would be doing ourselves and our customers a disservice.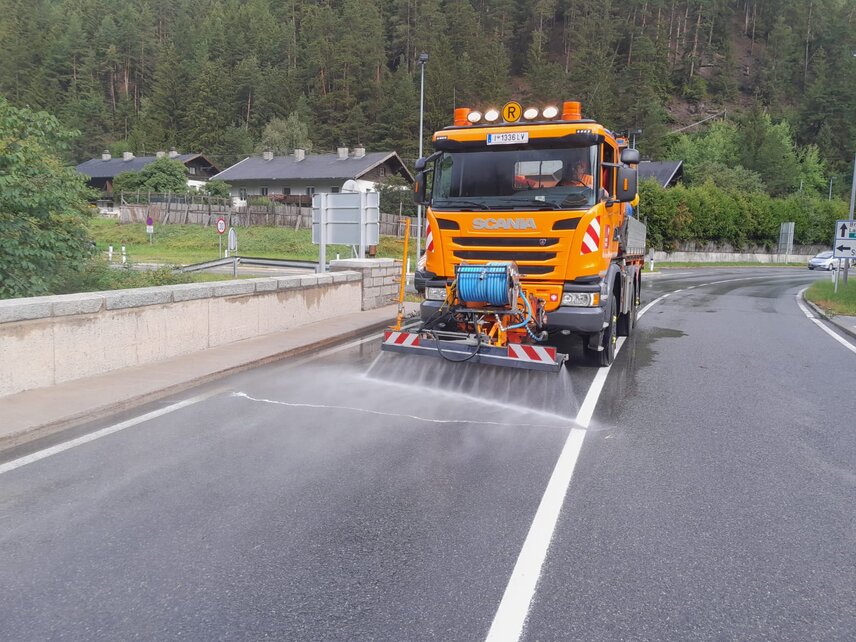 How do drivers and operators of equipment and vehicles benefit from all this?
Henning Schröder: Well, we have many years of experience with our Arctic Road Maintenance Trucks, plus a number of other models, so we are very familiar with the needs of the drivers. I haven't yet met a driver who doesn't appreciate being able to operate multiple equipment with identical controls. The driver's tasks are challenging and varied enough, so being able to work with one instead of many system affords them greater convenience in day-to-day operations.
We often hear that it's best to leave things to the specialists. Will that no longer apply in future?
Gerhard Neudorfer: No, it will. What sets our Group apart is that we have a unique number of specialists who bring with them decades of expertise from very different areas and have been in dialogue with many different customers over that time. A good specialist is someone who develops over time and adapts to changing requirements.
Will the maintenance of multipurpose, all season machines become more expensive?
Henning Schröder: No, on the contrary. The usage time of the machines remains the same. The operating time for a single machine is longer, but regular interval maintenance for two machines is significantly more expensive. And if we assume that the majority of future equipment will be electric, this means that standard maintenance costs will drop in any case, by well over half.
But will that maintenance become more complicated?
Gerhard Neudorfer: No, it won't. We take the requirements of the circular economy very seriously, so we approach development in a way that ensures that we can use as individual parts across our product range. That, among other factors, makes maintenance easier. As we have a steadily growing number of customers who no longer want to deal with maintenance themselves, they arrange maintenance and service contracts with us. Depending on the customer's specific situation, these can be scaled from simple diagnostic work to a full-service package. It doesn't get more simple than that.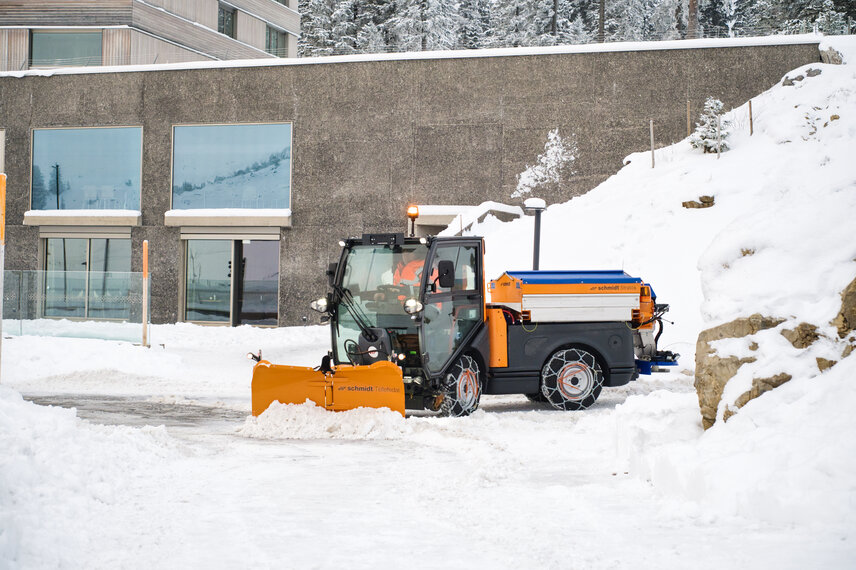 To what extent are developments being driven by environmental considerations?
Gerhard Neudorfer: They're a major factor, of course. These days, most cities and municipalities have committed to greater sustainability, many to net zero emissions. Their suppliers, partners and service providers also have to meet the requirements if they want to work on their behalf. And while operations now have to be greener, they also have to meet economic objectives in equal measure.
Henning Schröder: Exactly. Going forward, we'll be thinking more in terms of versatile, efficient platforms. We've already done that effectively with the Flexigo, but we know that there's more to be done there and elsewhere, and we're working on it.
Gerhard Neudorfer: Switching to alternative drives is one way of reducing emissions. Another is what's known as remanufacturing, which we've been successfully pursuing in individual countries for some time now. We're completely overhauling and repairing equipment and vehicles at the end of their customary service life, with the result that we're extending the service life of the equipment by well over ten years.
Are we doing what customers want from us?
Henning Schröder: Ultimately, our job is to make sure that our solutions allow customers to achieve their goals in the best possible way. Because yes, in the end it's the customer who decides, and that's not about to change. We have to think ahead and develop solutions that adapt flexibly to changing needs over time. This is part of our Group's understanding of sustainable innovation.
Gerhard Neudorfer: Our group learned early on that not all spraying and sweeping is the same and that effectiveness depends on the requirements of different customer's needs and situations. This resulted in our ambition of developing tailor-made solutions in close cooperation with customers. That won't be changing, but the solutions will look different, as the needs of our customers change over time.