Climate protection with plough and spreader - winter maintenance on cycle paths
Cycle lanes, cycle routes, cycle fast lanes, cycle zones or pop-up bike lanes - German cities are continuing to expand their cycling infrastructure at a rapid pace. What challenges does this pose for winter road maintenance? How do you thoroughly clear cycle paths of snow and ice with just one vehicle instead of a clearing convoy? What does this mean for your winter service planning and budgets?
Germany gets on its bike - in all weathers
Cycling plays a key role for many German cities and agglomerations in achieving their transport and climate policy goals. A recent study showed that commuters who use a bicycle daily cause 84% lower mobility-relatedCO2 emissions over their entire life cycle than people who do not use a bicycle. The analysis per distance travelled is even clearer: cycling causes 30 times lessCO2 emissions per distance than a diesel or petrol car and still ten times less emissions than an electric car - always taking into account the purchase and disposal costs and the lifetime of the vehicle.
This lever in climate policy has been recognised by the German federal government, the federal states and the cities. The promotion of cycling focuses on the infrastructure. New cycle lanes, cycle zones, cycle paths and parking spaces for cyclists are constantly being created.
Efforts to improve cycling routes are reflected in the volume of cycling traffic. It has increased further during the Corona pandemic. According to the responsible Federal Ministry, 80% of Germans use the bicycle in some way, 55% consider it an indispensable means of transport. This makes Germany one of the leading cycling nations.
In addition to overall use, the year-round use of bicycles for commuting is also increasing. On cycle paths, the volume of traffic often only decreases by 20-30% during bad weather. In general, the decrease of cycling traffic in bad weather conditions is lower in urban and well-developed areas than in other places.
A survey of cyclists by the TU Dresden has shown that the people who who nevertheless leave their bicycles at home in critical weather conditions, mainly (87%) cite the increased risk of accidents due to insufficient winter road maintenance as the reason. Many of these people would also use their bicycles to get to work on winter days if the cycle paths had been cleared properly. But the accident figures prove that caution is justified. The relative risk of having an accident by bike is about 20 times higher in icy conditions than in non-critical weather. Therefore, an effective winter service is indispensable to maintain the attractiveness of cycle paths in winter. Only a functioning winter service makes it possible to exploit the full potential of the new cycling infrastructures also in the cold season. However, the integration of the cycling infrastructure into the winter service plans brings with it many pitfalls.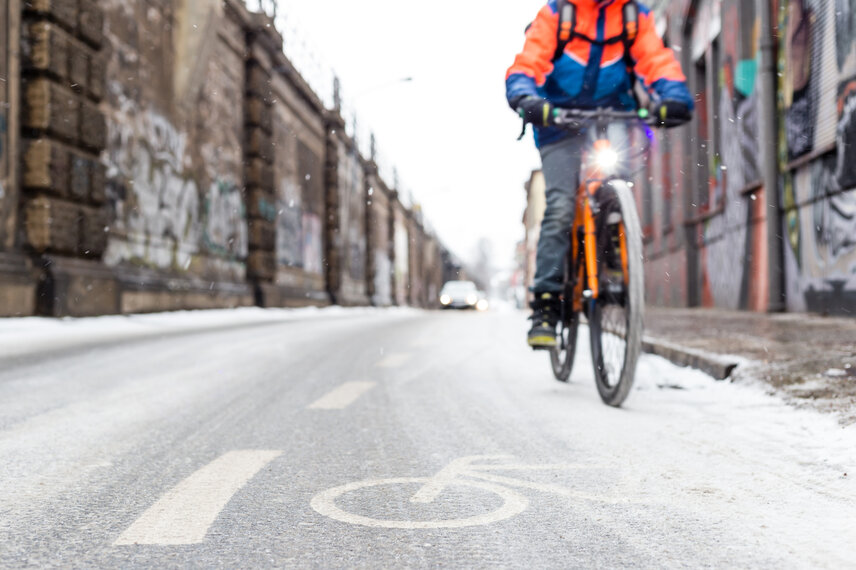 Cycle paths in winter - a challenge
It is the peculiarities of cycle paths that force winter road clearance services to adopt new approaches and means of operation. Snow clearance and de-icing on cycle paths differs from the classic winter road maintenance for motor traffic. What are the factors that make winter maintenance on cycle paths more difficult?
Obstacles:
If existing car or neighbourhood roads are converted to cycle routes, the clearing can be done with existing equipment from the road service. But this remains the exception among cycling infrastructures. As a rule, narrow or variable path widths, bridges with low load-bearing capacity, subways, bollards or trees hinder mechanical snow clearance.

Space conditions:
Often the cycle path runs parallel to road traffic or pavements. This reduces the lateral space available for depositing the cleared snow - even worse, the cycle path itself often serves as a space for depositing snow from the surrounding traffic areas. In such cases, a clearing column has to move out in a coordinated manner or, in critical passages, snow even has to be removed at great expense.

Back-to-black clearance is a must:
The tyres of bikes and e-bikes have only one twelfth of the tyre contact area of a car. Together with the speed, this results in a high susceptibility to skidding on residual snow or slippery surfaces. A very clean clearing pattern of the snow plough, if necessary improved by subsequent cleaning with a sweeping broom, leads to a safe result for cyclists.

Choice of spreading agent:
Abrasive de-icing materials to combat icy roads proved to be less suitable for cycle paths. Loose gravel with its sharp edges is dangerous for the pneumatic tyres of the wheels and can even lead to slippery conditions on bends. So thawing gritting agents are needed - in the lowest possible dosage and with high effectiveness, this is best achieved with wet salts. Even better is the precise application of brine on the cycle paths. In many municipalities with demanding cycling infrastructures, clearing with a plough and sweeping broom, followed by a sprayer to combat icy roads, is becoming the ideal solution.

Time factor:
According to the Federal Court of Justice (BGH), the obligation to clear and grit also applies to cycle paths that are "important for traffic". According to today's interpretation, cycle paths connecting towns and cities as well as cycle lanes are also considered important for traffic in winter. In the case of cycle paths with a gritting obligation, winter service teams have to clear them by the start of the morning rush hour. The cycle paths must therefore be serviced at the same time as the roads.
The characteristics of the cycle paths thus often require specific equipment and additional personnel. Clearing the cycle paths thus quickly turn into an unwelcome cost driver.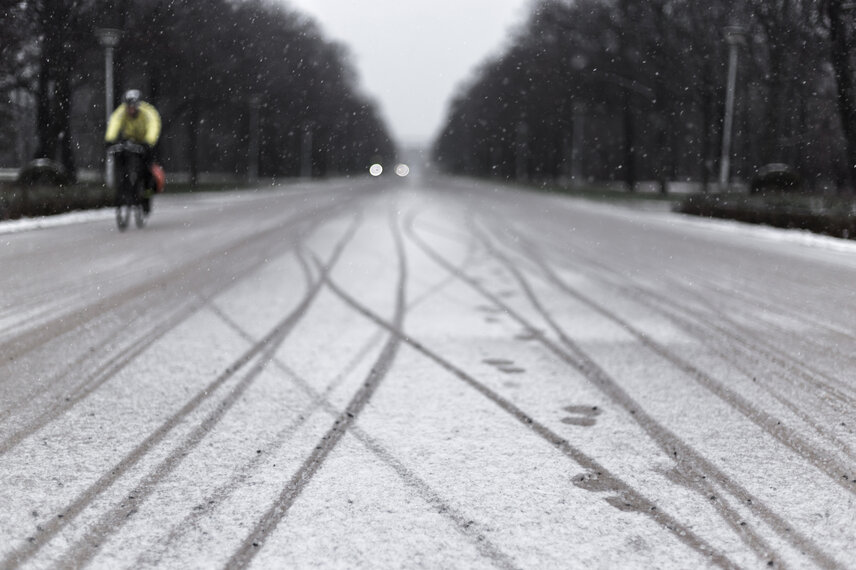 Clearing, sweeping, spraying - 3 work steps with only one vehicle
There are ways and procedures to master the cycling infrastructure efficiently and with as few vehicles and personnel as possible. The first step must be taken at the construction planning stage. Ideally, the winter service sits at the table during the planning of cycle paths and can directly contribute requirements for maintenance and winter service. Necessary elements such as bollards or lane markings are then designed so that they do not restrict winter services. Wherever possible, existing machines should be able to be used.
The challenge remains to clear the cycle paths with the necessary thoroughness and to fight icy conditions effectively. Clearing the traffic areas as cleanly as possible from snow with a plough and sweeping broom creates an ideal starting point for combating icy roads. Cleanly cleared surfaces require up to 80% less salt or brine.
However, for consistent back-to-black clearance, every kilometre of cycle path would have to be cleared by a plough, sweeper and spreader/sprayer in the morning hours. Exactly when these vehicles are also needed for road traffic and important footpaths. The solution to this is the use of combined methods.
Specialised machines, such as our Schmidt TSS, enable snow clearance and brine spraying in a single operation. This proves particularly useful on cycle paths, as the clearing operation only ties up a single vehicle instead of a clearing convoy. This is particularly relevant in critical operational situations, when every plough and spreader must be used as efficiently as possible.
An investment in specific winter services for cycle paths pays off in several ways. Cyclists are safer on the road and it helps cities achieve their climate targets. The greatest effect, however, can be seen in the costs. Combined procedures can reduce personnel costs, vehicle operating hours and the consumption of gritting materials. In combination, these factors result in a substantial savings potential for winter road maintenance, which should not go unused
The Schmidt TSS is a trailed sweeping and spraying unit and is designed for de-icing on narrow roads, car parks and cycle paths. The TSS combines three de-icing steps in one operation: ploughing, sweeping and spraying. The combination of snow plough and broom enables very precise clearing, while the spraying unit ensures even, economical distribution of the spray. A PE tank with a capacity of 2,500 litres allows for a large operating radius and the variable spraying widths (2.2 - 3.6 - 5.0m) cover any width of wheel path. The TSS is designed for a working speed of up to 40km/h and only requires a towing vehicle with a plough and power output of 80 or 120 hp.