Aebi Schmidt Polska awarded with the Golden Heracles Diploma
The Golden Heracles Diploma honours companies that make a significant contribution to the development of waste management and urban sanitation in Poland. The award is a recognition of Aebi Schmidt's long-standing commitment in Poland to contribute to more efficient and resource-saving processes with intelligent solutions and innovative technology.
From September 20th to 22nd, 2023, the 62nd National Forum of City Waste Management Directors (pol. Zjazd Krajowego Forum Dyrektorów Zakładów Oczyszczania Miast, KFDZOM) took place, representing a pivotal event in the field of waste management. The forum provided for Aebi Schmidt not only the opportunity to showcase products and solutions but also a chance to further deepen the continuous exchange of experiences in the industry of urban sanitation and waste management.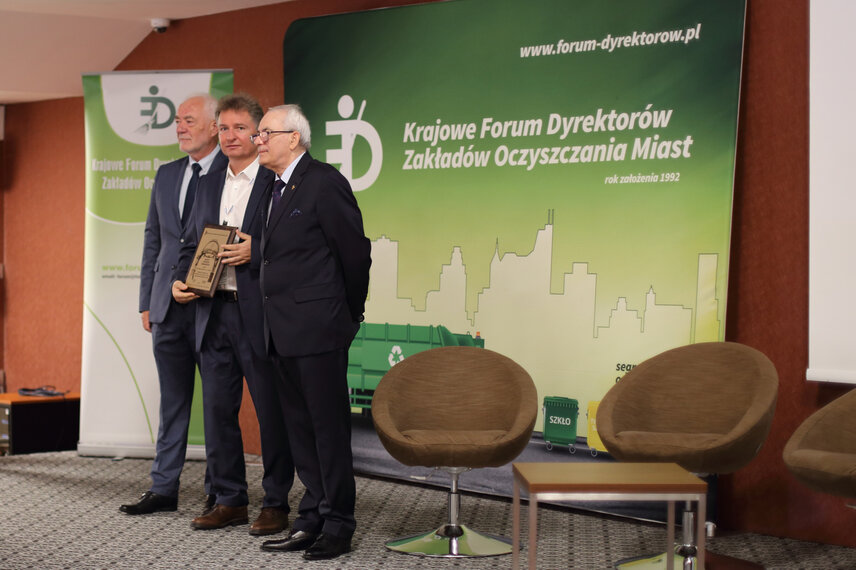 KFDZOM conferences serve as an important platform for the executive leadership of all entities connected with waste management and urban sanitation, providing an opportunity to catch up with the latest regulations and current challenges concerning the entire industry. Moreover, participants can share knowledge and experiences, serving as an valuable source of information and inspiration.
At the conference, Aebi Schmidt Polska was awarded with a distinctive accolade - the Golden Heracles Diploma. The diploma is awarded to companies that have not only been present in the market for an extended period but, more importantly, have demonstrated efficient work and commitment to advancing the national waste management economy. Our continued efforts and our innovative approach to addressing waste-related challenges have contributed to improving the environmental quality and sustainable development of Poland. Aebi Schmidt Polska is certainly proud of this achievement and remains committed to contribute to environmental protection.
We would like to extend our gratitude to KFDZOM for providing us with the award. It will be inspiration and motivation to continue providing innovative solutions in the field of urban sanitation and waste management.