Integrated control of truck and jet sweeper - another milestone on the way to autonomous operations at airports
On the Stuttgart apron last Wednesday, the Aebi Schmidt Group and Stuttgart Airport GmbH presented what the future of winter maintenance with autonomously operating vehicles and equipment could look like. The system tested at Stuttgart Airport is fully integrated for the first time. 
There will hardly ever be a standardised universal solution for the use of automated and autonomous systems at airports. Therefore, Aebi Schmidt's multi-step approach enables the systems to be adapted step by step to the specific needs of each individual airport. Individual elements can already be automated for quite some time. New and another milestone on the way to autonomous operations is now the fully integrated system, where truck and jet sweeper are controlled via the same platform. Stuttgart Airport has had a significant stake in the development and testing, in particular within the framework of the SmartFleet project, which was funded by the German Federal Ministry of Economics and Climate Protection.
The sweepers equipped with the Aebi Schmidt AirfieldPilot are able to clear runways, taxiways and the apron of snow and ice in a completely automated way. Previously recorded routes can be edited by the operations management so that snow ploughs, brushes and blowers can deploy jobs completely automated according to predefined clearing concepts. The system ensures that a potential deviation of a vehicle is immediately taken into account and the current job is dynamically adjusted in real time according to the specifications of the clearing concept.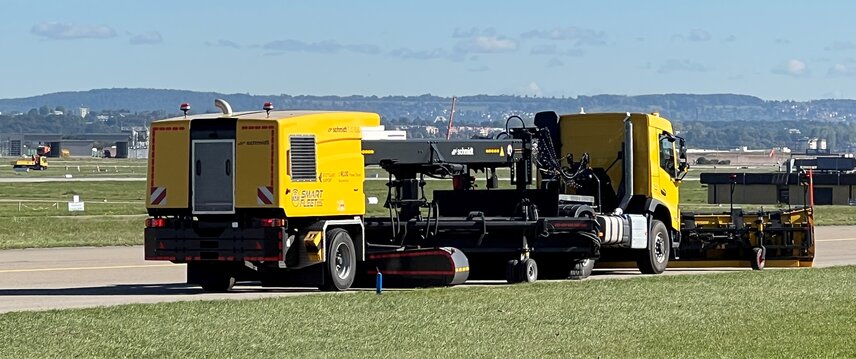 Press representatives and interested customers were able to see for themselves at Stuttgart Airport that the future of autonomous operations is once again a big step closer. Automated or autonomous operations are not only more efficient and cost-effective as they enable a better availability of machines and personnel, fewer breakdowns and an accuracy of up to 2 to 3 cm – moreover, they contribute in particular to greater safety and lower fuel emissions. From the operational perspective, the systems are also a great and valuable support, especially in poor visibility due to darkness, fog or snow drift.
During the trial and test drives, there was yet a human being in the vehicle who could intervene in an emergency. By when the systems will be used regularly for the first time in Stuttgart or elsewhere ultimately depends on the legal framework.
Supplementary information: