Monroe and Towmaster unveil new visual identities as part of the Aebi Schmidt Group
Last weekend, our colleagues at Monroe and Towmaster took the opportunity to mingle with the community on the occasion of the Green County Cheese Days, explaining and showing what existing and new customers can expect in the future. At the event, which took place in Monroe, Wisconsin, the two new brand logos were shown to the public for the first time, marking a further step in the integration of Monroe and Towmaster as product brands of the Aebi Schmidt Group.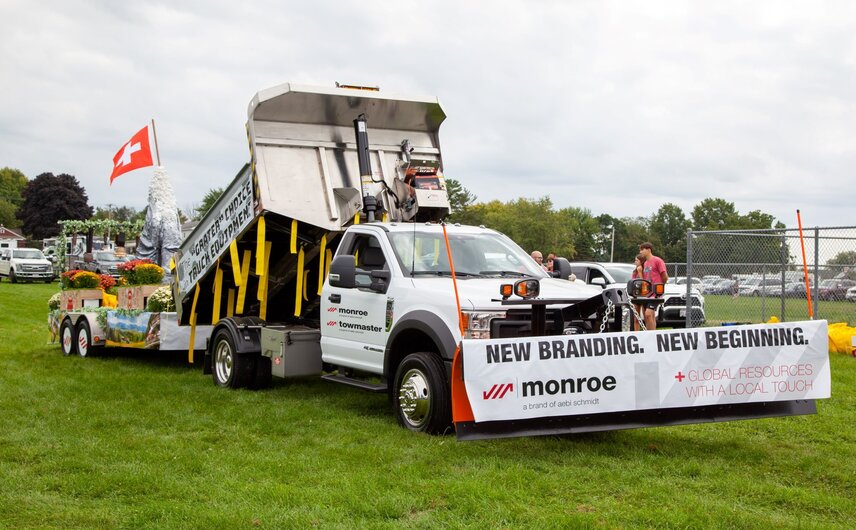 The Monroe community has heard and understood that Monroe Truck Equipment, together with Towmaster, will continue to be a pillar in the community, and in fact, is even stronger. The brand attributes, company heritage and unique characteristics remain the same, but the brand logos will take on new identities to visually convey that they are now part of a bigger group. A group which is a global leader in intelligent solutions for customers who care for clean and safe infrastructure and who cultivate challenging grounds. Existing and current customers will profit directly from the benefits of greater knowledge, resources and an even broader range of solutions. 
Over the months ahead, employees, customers, vendors and communities will see signage, product branding, digital imagery, stationery and more taking on the visual identity of the Group. 
Cheese Days, established in 1914, is the oldest food festival in the Midwest area of the United States. The event is held every other year and attracts thousands of people, who enjoy the parade, wide variety of foods – especially cheese! – and many more festivities. Monroe employees volunteered to work at the festival's cheese curd stand – one of the most popular stands at the event where fresh cheese curds are beer battered and fried. Four employees also formed a team for the highly-anticipated milking contest where teams compete to milk a cow as quickly and efficiently as possible. Monroe was also a part of the Cheese Days parade with their theme, The "Grater" Choice in Truck Equipment. Employees on the parade committee worked hard to build every element of the float, including the Swiss Alps, Swiss-style flower boxes, and a truck decorated like a giant cheese grater – complete with moving cheese! With a best in show title from the last Cheese Days in 2018, employees were determined show up again with a show-stopping float!