Is it better to buy a single-axle implement carrier yourself or hire it from a farm machinery contractor?
The single-axle implement carriers from the Aebi CC range have become increasingly flexible and powerful over time. That said, does every farm really need its own implement carrier, often with the same attachments in each case? The answer is generally both yes and no. In this article, you can read about how with a bit of knowledge and creativity, and two Aebi CCs, it was possible to bring machinery to an entire valley in a more efficient and gentle way. The two implement carriers in the fleet of farm machinery contractor Stefan Gempeler are now being used by an entire valley. 
What does a child who has grown up in the mountains and has a love of machines do when they grow up? The logical choice is to train to become a mechanic for agricultural machines while establishing yourself as a mountain farmer – then you will have the best of both worlds. Stefan Gempeler learned everything there is to know about working with and servicing agricultural machines from his local Aebi dealer in the village of Adelboden in Switzerland. He has since also started the process of taking over his uncle's farm together with his cousin, meaning that he now performs the combined roles of farmer, machine designer and farm machinery contractor. As farmers, they run a farm with an area of just under 20 hectares, with twelve dairy cows and breeding in mountain zone 3. This is a three-level farm with valley farming, pasture and alpine areas. There are lots of these types of farms in Switzerland, and they all face the same question of which equipment they should buy themselves and which not.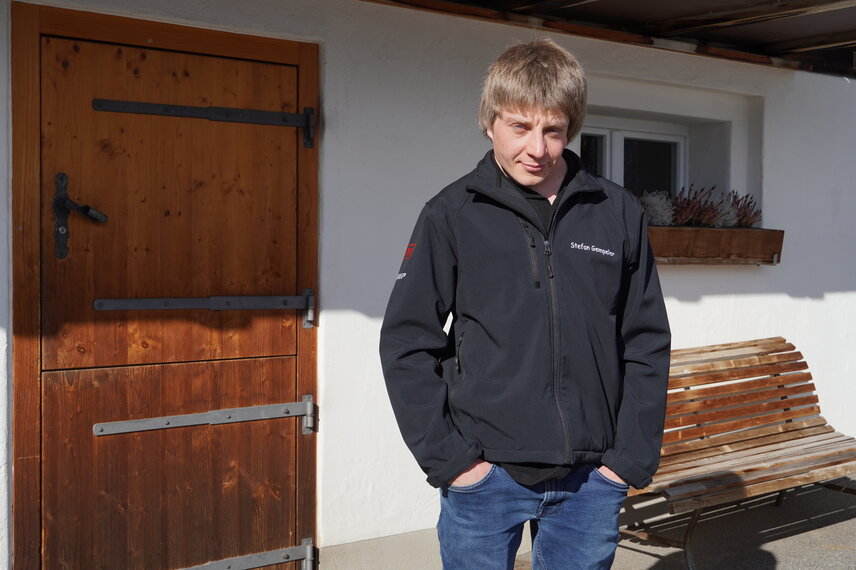 Mountain farmer and farm machinery contractor 
Stefan Gempeler can answer this question for local farmers. In addition to his job and his new career as an apprentice farmer, he is currently a farm machinery contractor and also has single-axis implement carriers in his fleet. He rents out machines with and without attachments and also builds attachments himself. This works reasonably well alongside his uncle's farm business. The farm itself extends up into the skiing area and can be fairly demanding. However, Stefan Gempeler always puts his own farm first. He currently has a customer base of around 50 farmers and he sometimes also borrows machines that he doesn't own himself from friends. But he has no plans to grow his machine hire business beyond its current size. He laughs, "As I child I did of course dream of having a large farm machinery contracting business, with lots of big machines. But I'm making sure that it doesn't get too big."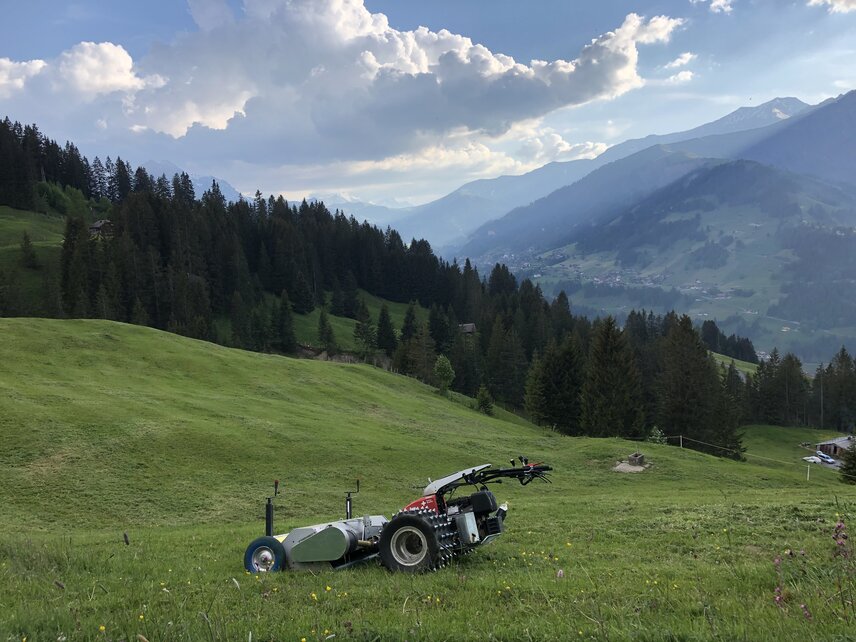 Manure spreader for tractors and single-axis machines  
Stefan Gempeler has an Aebi CC 66 with 23 hp and a CC 110 with 8 hp – for his own use and for use by his customers. He uses the CC 66 for heavy work, for example together with the two mulchers, the 3.1 m wide mowing bar or a large snow cutter. He has also built a pasture harrow for this himself, as well as his own manure spreader. The advantage of this self-built manure spreader is that Stefan Gempeler can use it on the CC 66 and on the tractor. This also makes the device much more versatile and there is an equally big demand for this attachment – both together with the CC 66 but also by itself. "It's actually very rare to see manure spreaders being used on single-axis machines," says Stefan Gempeler. "But my device shows that this often makes sense." 
The CC 110, on the other hand, is mainly used in conjunction with a 1.90-m mowing bar for mowing on extremely steep terrain. However, there is not so much of this that each farmer can afford to have their own implement carrier for it. "Generally everyone tries to do as much mowing as possible with the large motor mower or even the two-axle mower, or the tractor mower, because the mowing width on these is much bigger. We don't have many really steep areas in our region. But that is exactly why people often come too late rather than too early to borrow the CC 110 for extreme terrain," he explains. Because on steep terrain the situation can suddenly become dangerous from one moment to the next. "I am particularly grateful for the drive selector lever in these situations, but mainly also the hydrostatic drive and the hydraulic steering system," he says. "Often I pay more attention to the attachment in those situations than I do to the vehicle. And it is extremely pleasant if you no longer have to wrench the columns as you did in the past." 
More smaller machines 
The single-axis implement carrier, which is getting better, more versatile and more powerful all the time, is fundamentally changing the face of the machine fleet. While many people still want to have all the equipment themselves, Stefan Gempeler is proving that, with a bit of organisation, you can easily share frequently used attachments, such as scooping devices for gathering hay. He doesn't own one of these machines himself but he borrows one from a friend. These types of community models, which save farmers both money and time, are much more preferable for the younger generation, which has grown up with the 'sharing economy': "I keep the CC 110 on a special trailer. My customers can then simply collect it and bring it back as it is. They do not need to top up the fuel or hose it down. After all, you do not always have a jerry can or a hose handy." 
Single-axle machines instead of tractor mowers 
Single-axle machines are increasingly being preferred to tractor mowers in mountain farming as their very low weight means that they can be used for earlier cutting in periods of good weather and they also help to protect the turf. Soil compaction is increasingly becoming an issue in mountain farming too and many young farmers are keen to work in a way that protects the soil. With its clever leasing model, Stefan Gempeler's machine fleet is bringing machinery to an entire valley in a more efficient and gentle way – with a bit of knowledge and creativity and two Aebi CCs.