Street King 660: Now also available with hydrostatic drive
The new and optional hydrostatic drive means this machine now offers even more convenient control while the sweeper is in use and allows smooth adjustment of the driving speed from 0 to approx. 25 km/h.
The hydrostatic unit is classically mounted between the transmission output and the differential of the vehicle's rear axle. In sweeping mode, the mechanical drive is disconnected and the power flow is directed via the transmission output to the powerful hydraulic pump. This in turn drives the hydraulic motor, which drives the corresponding rear axle. In parallel, the hydrostatic transmission reliably supplies the sweeper body with the necessary energy in all driving and sweeping situations.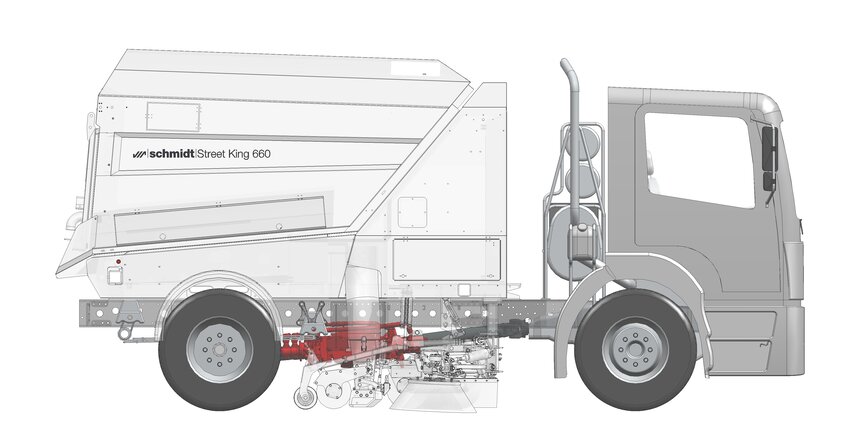 Comfortable and environmentally friendly
Overall, the hydrostatic drive is more energy efficient. The correspondingly reduced fuel consumption leads directly to lower emissions. In addition, the maintenance effort is also lower. The Street King 660 is equipped with a high-resolution TFT colour and touch display. This enables easy operation and quick navigation. Precise control of the hydrostatic drive is purely via the accelerator pedal. This is a comfort you will not want to give up in a hurry, especially during long work assignments.
By the way: A Street King 660 consisting of a truck with a gas engine (CNG) in combination with the hydrostatic drive is an attractively priced, sustainable and modern alternative to diesel drive - for even lower exhaust and noise emissions.