Cost-Effective and Sustainable at the Same Time
The Spanish city of Murcia shows how it's done. They recently renewed its entire street cleaning and Refuse collection fleet. The municipality wants to reduce CO₂ emissions, save water and reduce noise pollution. It has set itself the goal of leading the way in planning and implementing its urban services for the citizens and residents of the city in a new and sustainable way. Machines and services from Aebi Schmidt and its partner Ferrovial Services play a major part in this.
The photos of the large fleet on the occasion of the public presentation in the beginning of June are impressive. Not only the number of machines is astonishing, but also the somewhat unusual but very appealing colour underlines that the city is serious about being close to its citizens. The fleet comprises a total of 188 vehicles, about one fifth of which are usually in operation at night. A budget of 30 million euros was made available for the renewal of the fleet. This investment is part of a larger programme called "Horizons 2030", which aims at a clean, respectful and sustainable city.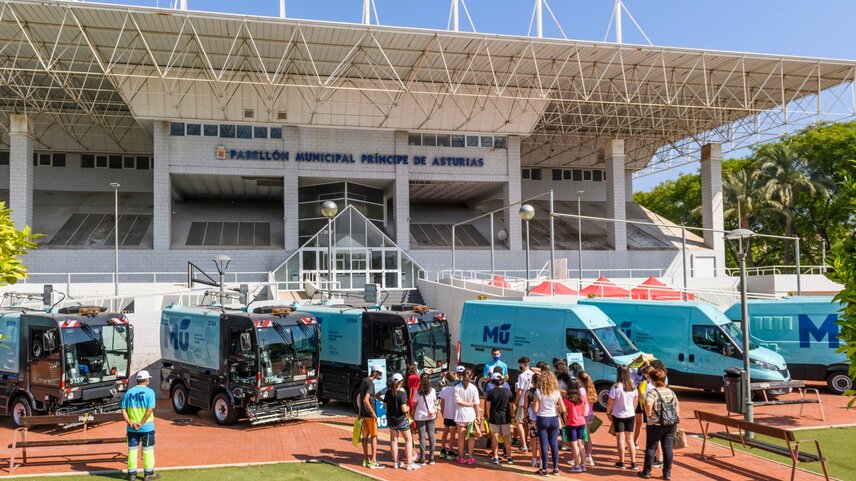 The criteria of sustainability, efficiency and technology were at the forefront of the procurement process. As a consequence, the machines are networked with each other. They transmit their position and operating data to a central platform with the help of which continuous optimisation of route planning and implementation is possible – even in real time.
Pablo Hernández Fernández, CEO Aebi Schmidt Ibérica, says: "It is not everyday that we are allowed to deliver so many machines at one go. The municipality, we and our partner Ferrovial have learned a lot over the past ten years. The machines and equipment must be perfectly coordinated to allow their efficient use. Although 80% of the fleet now comes from us, there are always good reasons to include third-party vehicles in a fleet. We can handle this very well. The overall operating costs can be reduced considerably from a combination of carefully selected equipment as well as professional service. This makes operations more sustainable and cheaper at the same time."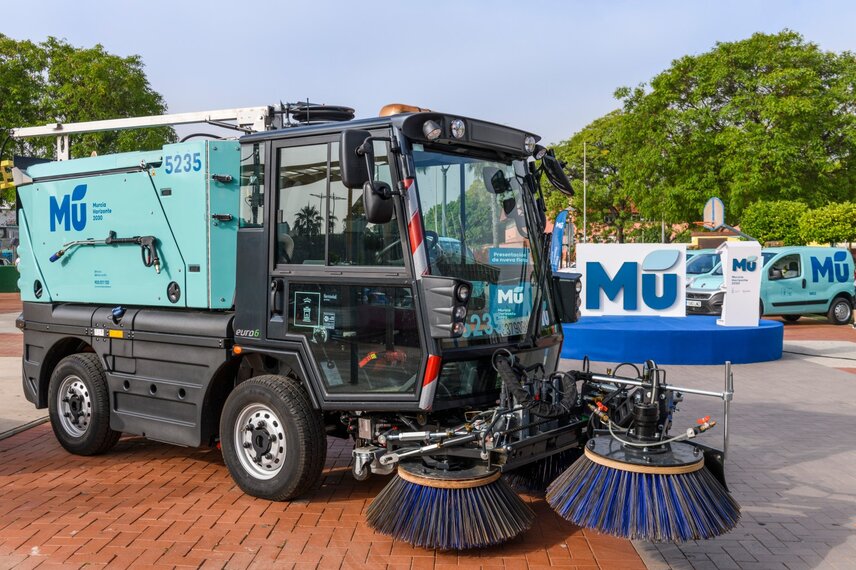 For about two months now, 4 eSwingo, 20 Cleango, 5 Swingo and 7 CityJet 6000 machines have been in use in the city. All of these models are multitalents and in operation for far more task than just sweeping. If you ask the drivers about their first experience, they particularly appreciate the modern workplace in the cabin. Aebi Schmidt has always attached great importance not only to the sweeping and drive technology, but also to the comfortable workplace when developing the vehicles. In the meantime, all sweepers bear the AGR seal of quality for back-friendly and ergonomic working.