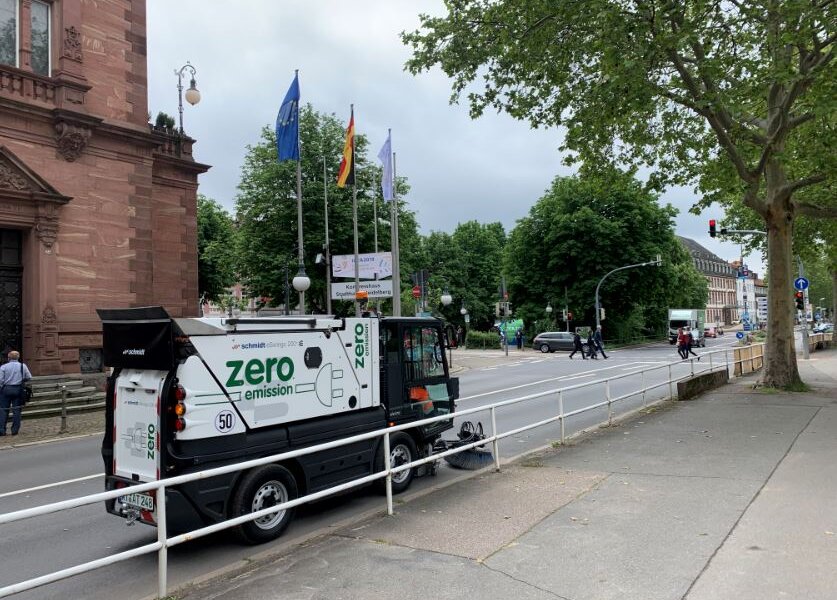 I'm saving 158 kg of CO₂ every day. How about you?
The eSwingo 200+ electric sweeper at work during the International Conference on Climate Action
Heidelberg became the mecca of climate protection in late May: nearly 1,000 guests from all over the world attended the 2019 International Conference on Climate Action (ICCA) on 22 and 23 May to discuss how to achieve the climate goal of limiting global warming to 1.5°C above the average temperature of the pre-industrial era. Specifically, the focus was on how cities and communities can stop climate change.
According to Andre Baumann, State Secretary for the Environment, Climate Protection and the Energy Sector in Germany's federal state of Baden-Württemberg, southwest Germany has already reached a temperature increase of 1.8°C. He added that two degrees of global warming would have dire consequences, such as the flooding of numerous islands: 'We need a new strategy for the global economy that does not depend on fossil or nuclear energy sources.' Efforts to protect against climate change must be ramped up through better cooperation and coordination at all levels. 'We have no time to lose,' emphasised Rita Schwarzelühr-Sutter, Parliamentary State Secretary for the Environment. She said that cities have an extra obligation to act, as they are responsible for more than 60 percent of harmful CO2 emissions and therefore play a key role in the solution.
Heidelberg wants to set a good example by leading the way. As early as 1992, it was the first major German city to adopt a municipal climate protection concept. Today, Heidelberg is an international pioneer and was named a 'Global Green City' by the United Nations. The city plans to make its municipal vehicle fleet emissions-free by 2025 and to achieve climate neutrality for the whole city by 2050. Another important stepping stone towards achieving this goal is therefore the electrification of the fleet of sweepers in Heidelberg's streets. This includes the introduction of a fully electric compact sweeper in the 2 m3 class: the Schmidt eSwingo 200+ , which sweeps streets and paths without emitting harmful CO2 and is a lot quieter – much to the delight of the city's residents and tourists. Around the conference grounds of the Kongresshaus and in the surrounding streets of the old city, the eSwingo 200+ was already going about its work, unnoticed by visitors and conference attendees as it passed through the streets in the early hours of the morning.
Visitors left the halls of the Kongresshaus feeling confident. 'It has become very clear here in Heidelberg that we can do it. We have new insights and partners and have forged new alliances. We have the knowledge and the will to take action together. The next three years will be critical if we are to curb climate change and maintain a life worth living on our planet. All of us here share this conviction, which is why connecting with people around the globe on a regional and local level is so important,' explain Franz Untersteller, Baden-Württemberg's Minister of the Environment, and Svenja Schulze, Federal Environment Minister.
The electric eSwingo 200+ in Heidelberg is already doing its part, saving 158 kg of CO2 per shift – that's around 24 tonnes of CO2 per year. This is setting an example for a clean future, which will require cooperation from all of us to achieve.
A complete report on how the eSwingo 200+ is being used in Heidelberg will be posted on our blog soon. Sign up now to receive updates and further information on the eSwingo 200+ and Generation E here.