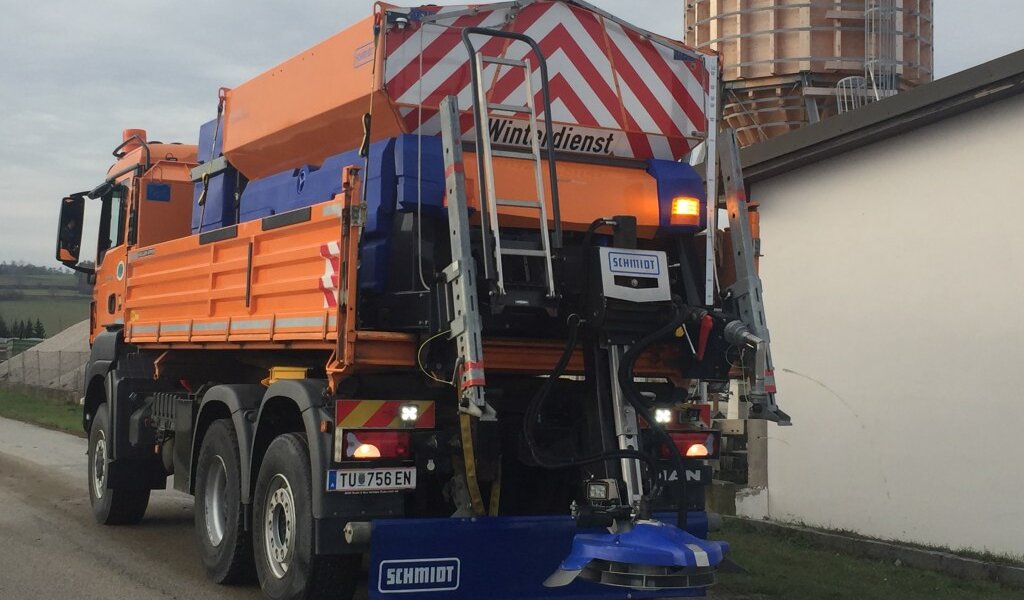 Endurance test passed – the Combi Soliq Flex impressed lower Austria's state government
The Lower Austrian state government has been using reliable Schmidt winter maintenance equipment for decades. The oldest product still in use is a 1958 lifting and pressing device for snow ploughs. They also use numerous ploughs, snow cutter blowers and salt spreaders for winter maintenance. Recently, three new Stratos 50 Combi Flex spreaders were added to the fleet to help Andreas Böhmer, Deputy Head of Machines and Vehicles, and his team to combat the icy winter roads.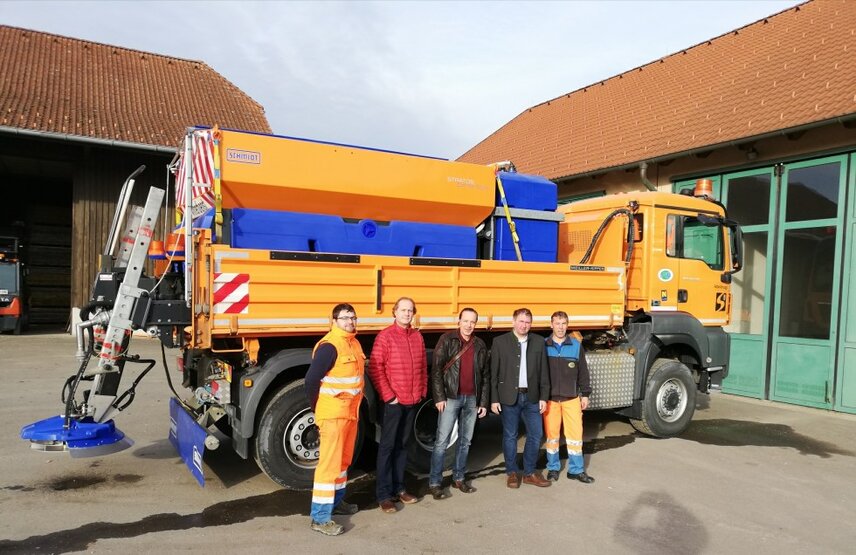 The Stratos Combi Flex success story began in 2015 with one of the first prototypes. Andreas Böhmer recalls: 'We tested a prototype during the winter of 2015/2016. The concept was new and unusual back then. Just ten years ago, spreading FS30 pre-wetted salt was standard. For winter road maintenance in Lower Austria, however, we now use pre-wetted salt with 50% salt solution (FS70) – FS70 and FS100 are currently still being tested. Theoretically, it's possible to use the Stratos Combi Flex to maintain our routes with dry salt or FS100; the ability to change the salt/salt solution capacity of the Combi Flex spreader allows us to fully exploit the carrier vehicle's payload. It can be varied from 2 m³ of salt and 6,400 litres of salt solution to 5 m³ of salt and 4,000 litres of salt solution. To ensure a reliable and cost-effective winter maintenance service, the spread pattern and spreading of the de-icing agent has be suitable for every operating condition (FS percentage, spreading width, speed). We can now achieve this with the Stratos Combi Soliq Flex, which is essentially three devices rolled into one. Efficient use of spreading agent and the issue of environmental protection are very important to us. We currently have several projects running in Lower Austria that are looking into the effective use of spreading agents. The use of enhanced pre-wetted salt doesn't just help to save money – it is also better for the environment. Optimally filling the Flex tank also helps to achieve the best use of the payload and saves fuel. The installed electronic logging device allows us to improve on our previous spreading operations and make future operations more efficient. The ES control panel, which can be used to operate the spreader from the driver's cab, is straightforward and easy to use. Furthermore, the salt and salt solution filling procedure is very fast, and the spreader can be mounted and demounted in just 15 minutes thanks to its roller system. The quality of the workmanship is, as with the Schmidt spreaders we have previously purchased, extremely high.'
The Lower Austrian road service has to maintain a road network of around 13,600 km that covers a variety of different climate zones. The winter maintenance service therefore has to deal with very varied conditions, from snow drifts and heavy snowfall to black ice. Whether the streets are wide, steep or narrow, the vehicles and spreading machines have to be able to cope with every situation. Andreas Böhmer has had particularly good experiences with preventative spreading, especially before snowfall, where a large volume of salt solution needs to be quickly sprayed on the street. The combination of large salt solution storage units and efficient spraying technology is the key to its success.