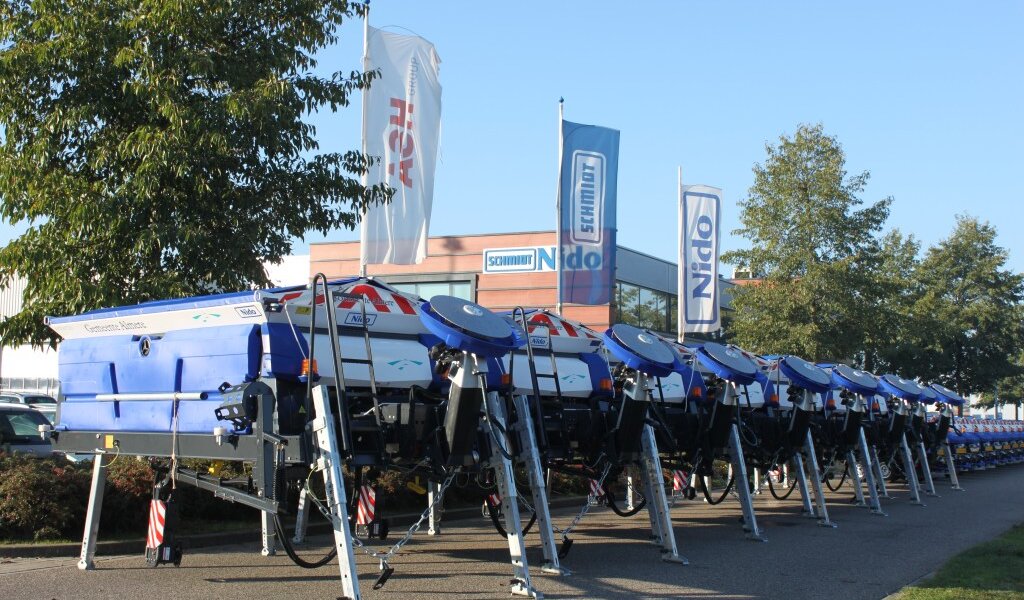 City of Almerere is ready for Winter
On October 10th a delegation of the municipality of Almere visited the Aebi Schmidt factory in Holten for the performance tests of their new de-icing equipment. In total 17 Syntos trailer spreaders and 8 Stratos 4,0 m³ mountable spreaders were ordered.
The Stratos spreaders will be used to spread 180 km of main roadways and bus routes. The 17 Syntos trailer spreaders will cover 492 km of small roads, bicycle paths and footpaths. Each spreader is equipped with AutoLogic  and a data  controller. With the GPS controlled spreading system with navigation and automatic spreading parameter adjustments as well as the DMi data management system de-icing in Almere becomes extremely efficient. The route is driven once to collect the settings for spreading. The route data is fed into the ES control panel. At the start of the following spreading application, the driver selects the route and follows the directions. Autologic ensures exact spreading fully automatically: Dosage, spreading width, symmetry etc. are exactly matched to the route. This enables the optimal spreading even of complex routes with roundabouts or stretches of motorway. The lack of route knowledge no longer poses a problem when deploying staff.
We wish the team of Almere many safe kilometers.