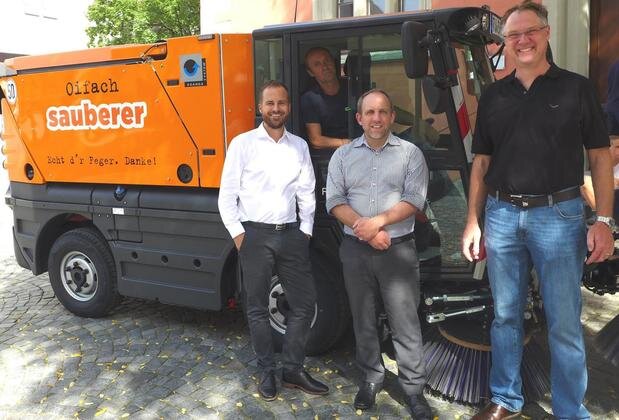 New Sweeper for Ravensburg
The city of Ravensburg has put a new Swingo 200+ into service. It has the most modern exhaust gas aftertreatment system available on the market with diesel oxy-cat, closed particle filter, urea injection and SCR-cat. With this equipment, the engine falls well below the permissible emission values ​​and easily meets the Euro 6 standard. In addition, the vehicle was equipped with a closed air circulation system and a pressurized water system with water recovery, the so-called Koanda system. With the combination of these two systems it is possible to reduce the emission of harmful fine dust by up to 95 percent.
"When we procure our vehicles, we make sure that they are sustainable and meet the highest requirements in terms of environmental protection," says depot manager Siegfried Veit (on the right, next to Mayor Simon Blümcke and business developer Andreas Senghas). The depot colleague Jakob Eirich sits in the driver's cab of the new sweeper.
Source: City of Ravensburg