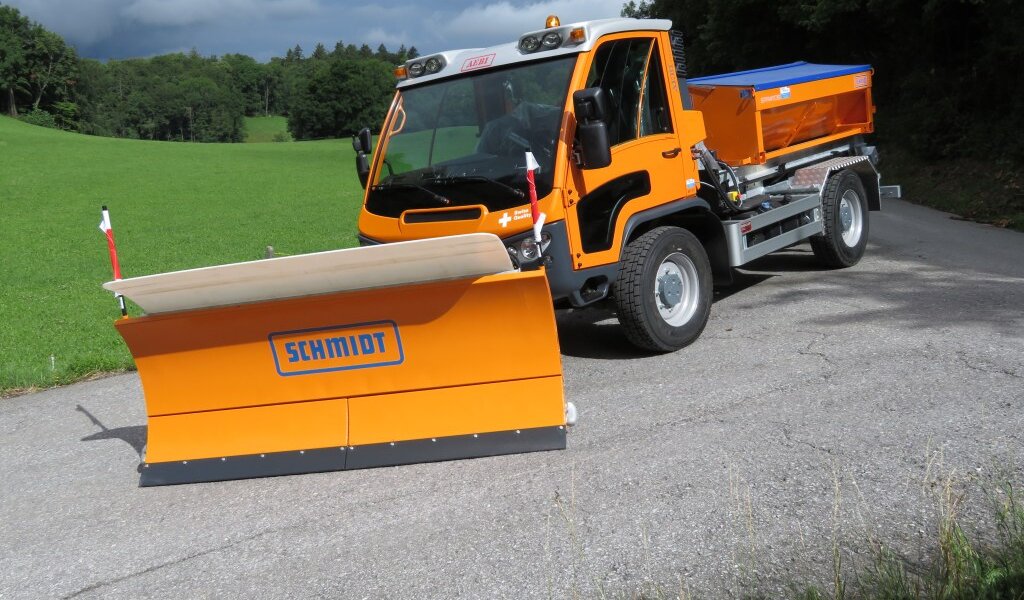 Winter Road Maintenance at 2200 Meters above Sea level – New Aebi VT450 Vario for Corbeyrier
It has one of the most extensive work areas – at least as this concerned the height difference. The new Aebi VT450 Vario for the Commune de Corbeyrier in Switzerland will ensure snowy and ice-free roads. The streets of the municipality extends from 500 up to 2205 meters above sea level. The entrance roads to and from Corbeyrier, which is located on 1000 meters of altitude, are correspondingly challenging and steep. So the municipality was looking for a powerful and reliable partner, which can also be used beyond the winter service. So the decision was taken: an Aebi VT450 Vario should become a new "team member" in Corbeyrier. Mid of July, the transporter was handed over to the community together with Aebi dealer Jean-Marc Ries from Garage Ries Sàrl.
The equipment with a Schmidt flat silo spreader with 1.7 m3 as well as a 2.60 meter Schmidt MPC snowplough offers ideal conditions for efficient snow removal and ice clearance. The transporter with 109 hp, a total weight of up to 8.5 tons and equipped with its unique, continuously variable drive, is already eagerly awaited by the road maintenance team. The cab provides the highest comfort, and the control of the attachments is also effortless and intuitive with the innovative CX control.
In addition, the multifunctional transporter has a hook and a dumper, which allows up to 5 tonnes of load. This dual function offers a versatile use of the vehicle beyond the winter service, whether this means road maintenance, forestry work or on construction sites, transporting excavated material. Due to the excellent off-road capability, off-road driving in steep mountain slopes is no problem, as the Aebi VT450 Vario demonstrated during a test ride impressively.
One vehicle – many possibilities. Mayor Robert Nicolier and Monique Tschumi from the town council are proud of their new "conversion artist", as well as André Roth and Luka Sousa, who will drive with the Aebi VT450 Vario in and around Corbeyrier. We wish the team a lot of joy and always good ride.