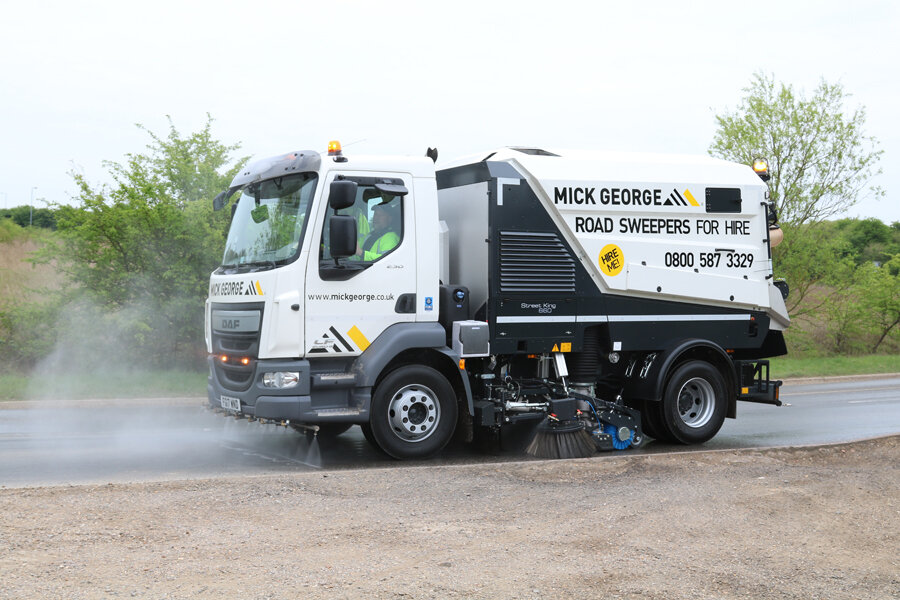 Mick George LTD selects two Street King 660 Sweepers to tackle Clean-Up operations
Construction industry supplier, Mick George Ltd, has taken delivery of two brand new truck-mounted Street King 660 sweepers from Aebi Schmidt to tackle a number of clean-up operations throughout the East Midlands and East Anglia. Mick George Ltd is renowned as a leading supplier to the construction industry, specialising in aggregate supply, waste management, concrete, earthworks and demolition, and is regularly contracted to handle clean-up works for major projects throughout the two regions. Such projects typically involve the continual use of multiple construction vehicles, which often results in mud, stones and other debris being dragged from the project construction site onto the surrounding roads, affecting the local network and disrupting local traffic flows. To combat the problem and limit the impact on local communities, Mick George Ltd selected two of Aebi Schmidt's revolutionary Street King 660 sweepers which, with their robust design, hard-wearing components and innovative features, are perfect for tackling tough, demanding jobs of this magnitude.
The Street Kings were fitted with two 16 tonne DAF Euro 6 LF chassis, which generate 230bhp and were supplied by Leicester-based Ford and Slater, the UK's largest DAF truck dealer group which operates 10 sites across the East Midlands and East Anglia. Steve Halliday, sales manager at the Peterborough dealership of Ford and Slater which handled the sale, said: "We supplied two Euro 6 LF chassis to the Aebi Schmidt factory in Germany for fitting, confident that the Street Kings would do a good job for Mick George Ltd."Although they've only been in commission since the end of April, feedback from the drivers has been very positive and they have said that they especially like the features of the sweeping system," he said.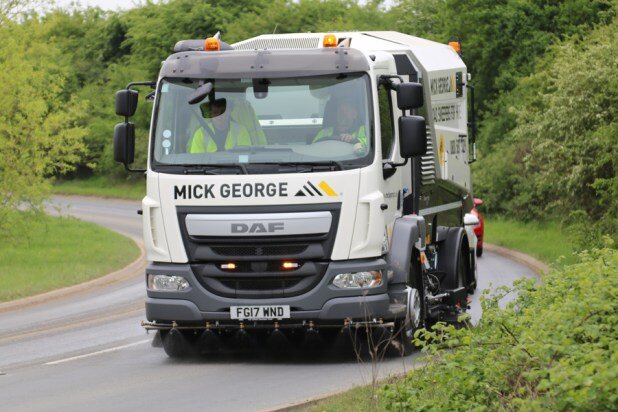 The robust design of the Street King 660 is partly down to the hard wearing components that have been integrated from other Aebi Schmidt equipment, including one of the UK's leading compact sweepers, the Schmidt Swingo 200+. The Street King 660 also takes its inspiration from the Schmidt Airport Sweeper, the AS 990, which was designed with the fast and efficient cleaning of both air and land side operations for a variety of airport customers around the world.  The amalgamation and integration of these proven components and designs has resulted in a tough and efficient truck mounted sweeper that was very well suited to Mick George's clean-up needs.
The Street King 660 boasts an array of features that made it the ideal machine for the job. These include the high pressure water system, which can deliver up to 30 litres per minute @ 200 bar through a high pressure front spray bar, the high-pressure suction nozzle mounted spray bars and a hand lance located on the rear of the machine. Both machines also were fitted with optional rear door-mounted Wander hoses with hydraulic assist to help the removal of coarse dirt and stones. In addition to these features, the specification for Mick George Ltd included the Street King's unique rear roller brushes located behind the suction nozzles which ensure a full vehicle width mechanical sweep, even when turning.  These rear roller brushes flick any debris that has been missed back in the path of the suction nozzles which not only facilitate higher sweeping speeds by up to 15%, but have also been proven to achieve a better surface finish.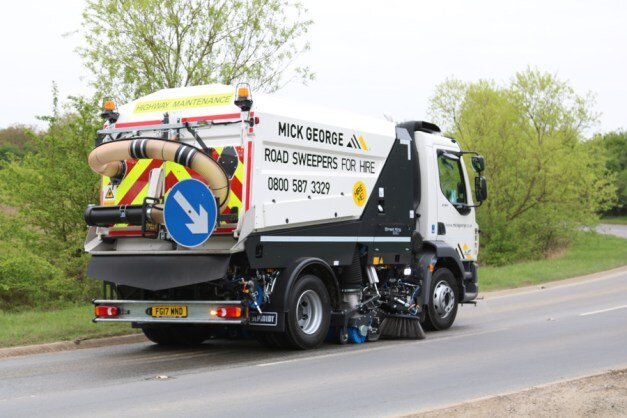 The Street King 660 has already received widespread acclaim for its functionality, special features and stand-out USPs, which combine to provide lower operating costs and faster working times. It is also extremely operator friendly due to the new state-of-the-art Evolution Smart (ES) control panel which makes the Street King not only easy to operate,  but its simplicity keeps training to a minimum. Richard Bryant, Managing Director of Aebi Schmidt UK, said: "Thanks to our excellent working relationship with local truck dealer, Ford and Slater, we are delighted to have been able to supply Mick George Ltd with our new Street King sweeper to help clean-up debris and other items around a number of key construction projects. "The Street King is ideally suited to jobs of this nature with its high suction power, large-capacity hopper and large water tanks that allow extended sweeping operations and would seem the perfect choice," he added.