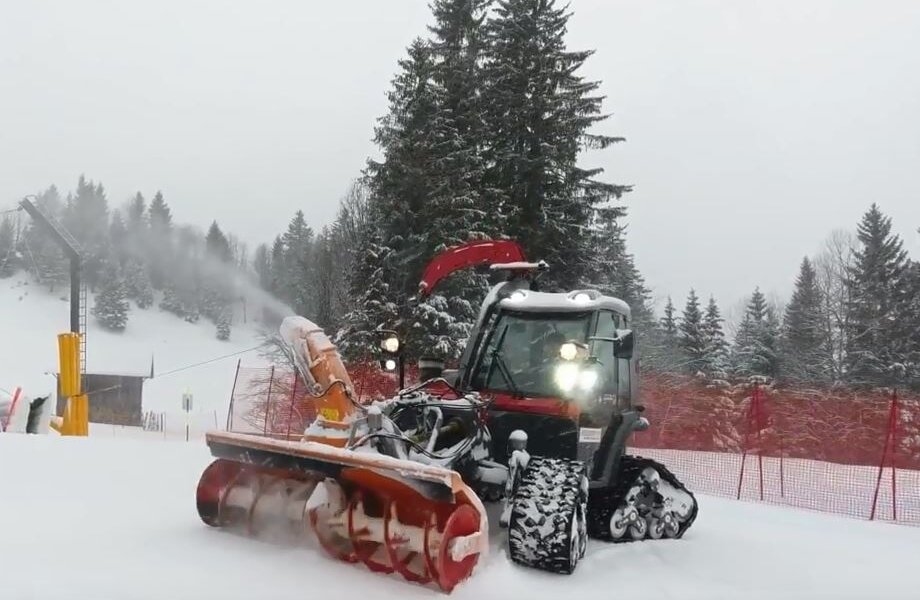 Interview with Robert Lehmann – Race Director at the Ski World Cup at Lauberhorn
After a strenuous but successful World Cup weekend at Lauberhorn a few weeks ago, at which an Aebi TT280 and an Aebi EC170 were also deployed, race director Robert Lehmann now takes stock in an interview:
"The Lauberhorn downhill run is the longest and one of the most spectacular downhill runs in the Ski World Cup. This is demonstrated by the respect that experienced downhill skiers have for the Lauberhorn downhill run. The Lauberhorn has a deeply emotional and eventful history – and for 87 years it has always tried to be one step ahead when it comes to slope preparation.
As we all know, competitive Alpine sport takes place outside. It is not just the materials and technical factors that play a role. The infrastructure is also becoming increasingly important for this competitive sport. This places high requirements on the organisers, cable cars and also on the manufacturers of machinery used to prepare the slopes. In both amateur skiing and ski racing, ski slopes are an essential, if not crucial foundation for enjoying winter sports. Preparing and maintaining them requires a great deployment of technical resources and comes at great financial cost.
Many weeks before the start of the race at Lauberhorn in Wengen, the snow groomers and dozens of helpers worked hard to prepare perfect slopes for the Lauberhorn races in 2017. Industrial snow, commonly known as artificial snow, was used almost exclusively to prepare the slopes. Nowadays a downhill ski run must have a snow density of 580 to 680 kilograms per cubic metre, so must be extremely hard.
Our verdict: the preliminary stages in preparing the slopes went smoothly. The detailed plans that we made with the responsible authorities have now been convincingly implemented. By deploying state-of-the-art technology, the organising committee constantly strives also to keep the level of expenditure as low as possible. As safety is always the top priority, it is important for the driver to be familiar with and have experience of working on a slope. After receiving a briefing and a short period of getting used to the machines, you quickly appreciate the benefits of the Aebi machines. Whether they are deployed on steep slopes or to move large quantities of snow, when it comes to the challenges of working on a slope the Aebi Terratrac and the EC 170 is the perfect addition to the snow groomers. With its crawler track and winch, the Terratrac is also highly suitable for carrying out demanding assignments on racing slopes. Its enormous versatility allows a wide range of different equipment such as a blower, plough, injection bar or sweeper to be deployed on the Terratrac. The EC 170 also meets all the requirements for environmental protection with its modern electric drive. It is impossible to imagine racing slopes being prepared for the Ski World Cup without using such machinery."