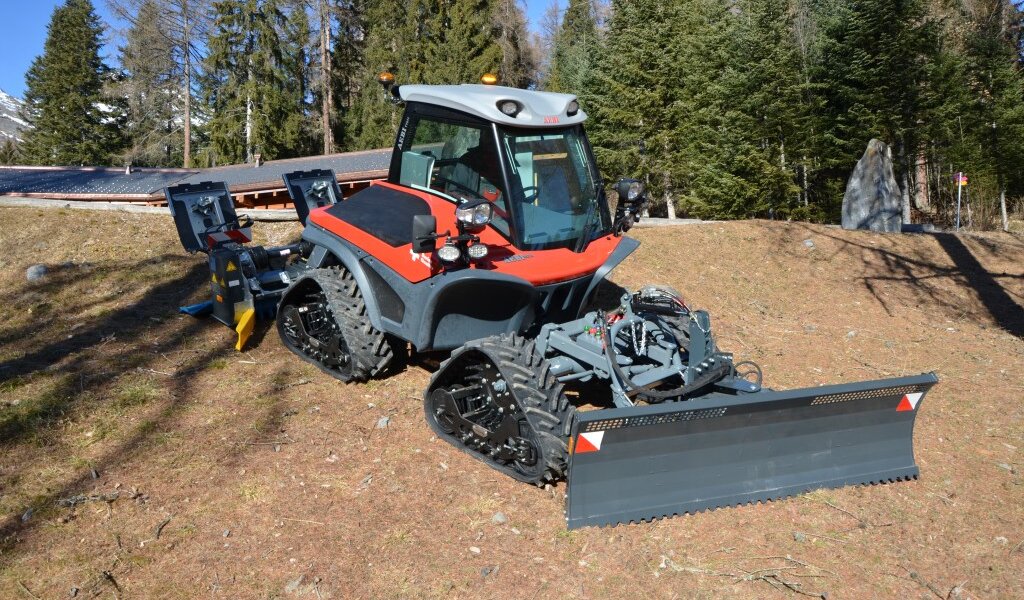 An All-Rounder on four Tracks
Aebi TT211 with crawler tracks goes to region of Martigny.
Nestled between vineyards and orchards, the district of Martigny in Switzerland with its resort town of Ovronnaz is popular for winter sport and thermal resort. Additional the region has more than 65 hiking trails and therefore is also a hiking paradise. In order to take care of the numerous winter hiking trails in the villages of Ovronnaz and Leytron, the local authorities have opted for an Aebi TT211 with crawler tracs, snow plough and snow track setter.
With its four-wheel steering system, the implement carrier is particularly maneuverable and, thanks to the compact design, optimally adapts to the narrow paths of the woods, so that no damage on the trees and plants occurs. If there is no snow in the woods, it can be driven easily also with the rubber tracks without damaging the asphalt. It was also particularly important to the people in charge of the municipality to find a device which can be used throughout the year. So the Aebi TT211 with its 72 hp is not inactive during the summer and will be in use to mow the ski slopes as well as for general work within the municipality.
Nor was there any snow left when the vehicle was handed over to Alexandre Crettenand and Serge Herren of the municipality of Leytron shortly before Christmas. In the meantime, however, the winter may also have arrived in the Canton of Valais and the TT211 is in its element. We wish the staff of the municipality all the time a good trip and much joy with the Aebi Terratrac.