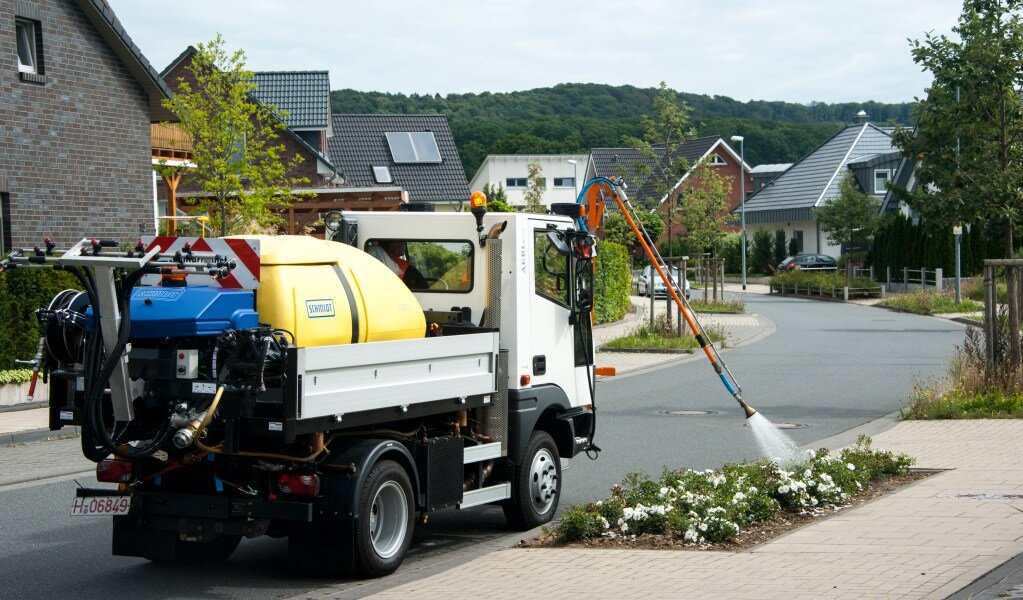 Winter maintenance technology deployed in Summer
30 degrees and plenty of sunshine. At the end of August, summer (finally) presented us with its warm glow. It was almost too warm for plants in domestic gardens and on balconies. Flowers and bushes in pedestrian precincts, on traffic islands, roundabouts or parks also had to be watered due to the persistent period of dry weather. This can be done extremely efficiently and comfortably by an Aebi MT with a Schmidt TSS or CSP.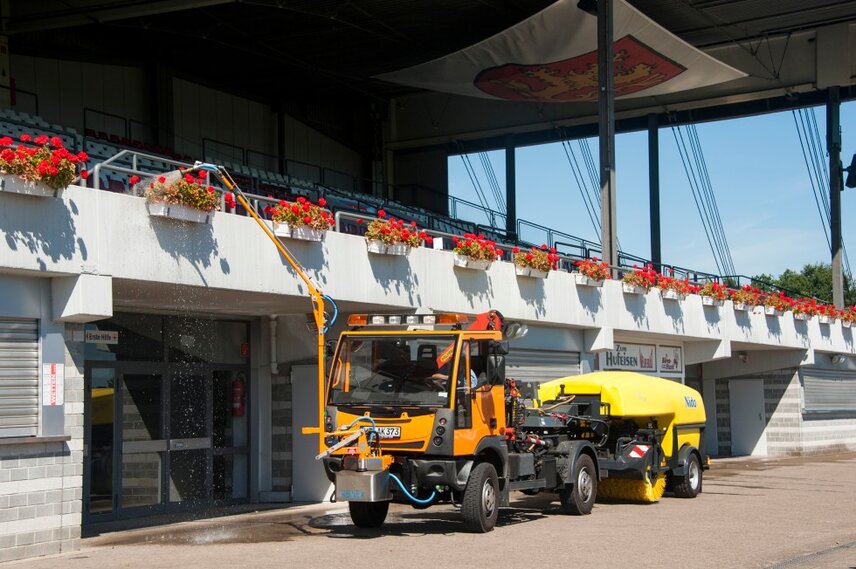 The TSS and CSP towed sprayers are really supposed to form part of the winter maintenance equipment. But both machines can also be deployed in summer for watering green spaces or water-bound paths. The watering arm can easily be operated from the driver's cabin of the Aebi MT and extended out to a height of up to 3 metres, so that the water which is sprayed can also reach higher planter boxes, as are found here on the racecourse in Hannover-Langenhagen. Water-bound paths, which tend to produce a very large amount of dust in persistent dry conditions, can easily be watered over large areas with the spray function. This ensures that large spaces at events or car parks do not become a dust trap for visitors. The Schmidt TSS towed sprayer is able to carry up to 2,500 litres. With the Schmidt CSP, which is mounted on the flat-bed platform of the Aebi MT, volumes of between 600 and 2000 litres are possible. The compact design of the Aebi MT with a width of just 1.70 metres means that it is able to navigate narrow passageways without any problem. Thanks to all-wheel drive, it is also able to travel on rough or steep terrain. In comparison with other vehicles which are used for watering, the Aebi MT's speed of 90 km/h also allows it to travel on motorways and trunk roads and, after it has been deployed, it can be transformed in a very short space of time into a versatile multifunctional transporter that is ready to tackle the next challenge. Winter maintenance equipment and a carrier vehicle used intelligently – the height of efficiency.