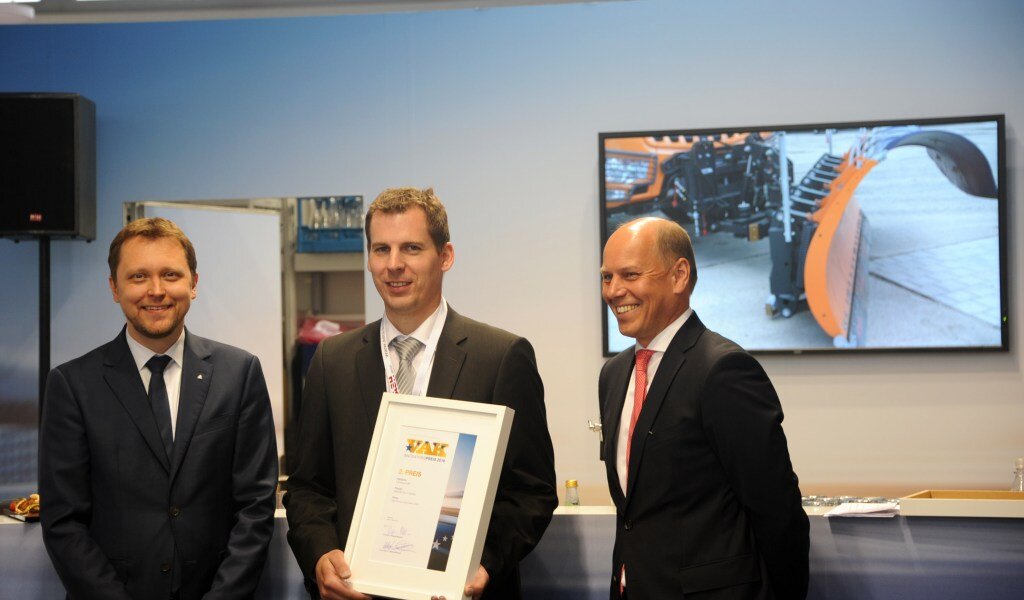 Compact Prize-Winner
SWINGO 200+ HONOURED WITH VAK INNOVATION AWARD
VAK e.V., the Municipal Vehicles and Equipment Industry Association, presented an innovation award for municipal vehicles and equipment for the first time on the occasion of the IFAT 2016. At the award ceremony on the second day of the trade fair, the 17 nominated companies, among them Schmidt from St. Blasien, were eager with excitement. The patent-pending combination of pressurised water recirculation and Koanda air circulation system of the Swingo 200+ convinced the panel of judges consisting of members of user associations as well as press and university representatives. The presented innovation reduces the emission of harmful particulate matter during sweeping operations by up to 95%, making the Swingo 200+ the most eco-friendly compact sweeper in the market.
"We are delighted to have received the VAK award and are proud of the technical masterpiece of our colleagues from the development department", says Rudi Rosenkamp, CCO of the ASH Group. "We are aware that today's requirements in municipalities go far beyond the mere cleaning performance. Factors such as efficiency, low noise level, particulate emissions or low maintenance costs have become just as essential when purchasing new equipment. Therefore, the new Koanda system is more than just an innovation to us. First and foremost, it provides our customers with direct – both financial and ecological – benefits. Specifically, this means a significant reduction in water consumption during sweeping, lower noise levels and extended sweeping operations thanks to the intelligent water system which eliminates the need for frequent time-consuming stops to refill water. In combination with the new, intuitive control lever, the Swingo 200+ Koanda is of great value to the driver, the municipality and the environment."
The Swingo 200+ is available with two or three disc brushes and is equipped with a 2.0 m3 hopper – permitting greater coverage and extended sweeping operations. The new control lever allows for adjusting the speed and operating the sweeping unit with only one hand so that dangling legs can now be taken literally. In 2015, the Swingo 200+ once again maintained its market leadership in the compact sweepers segment in Germany, clearly ranking first as regards the number of registrations published annually by the Kraftfahrt Bundesamt [Federal Motor Transport Authority] in Flensburg.