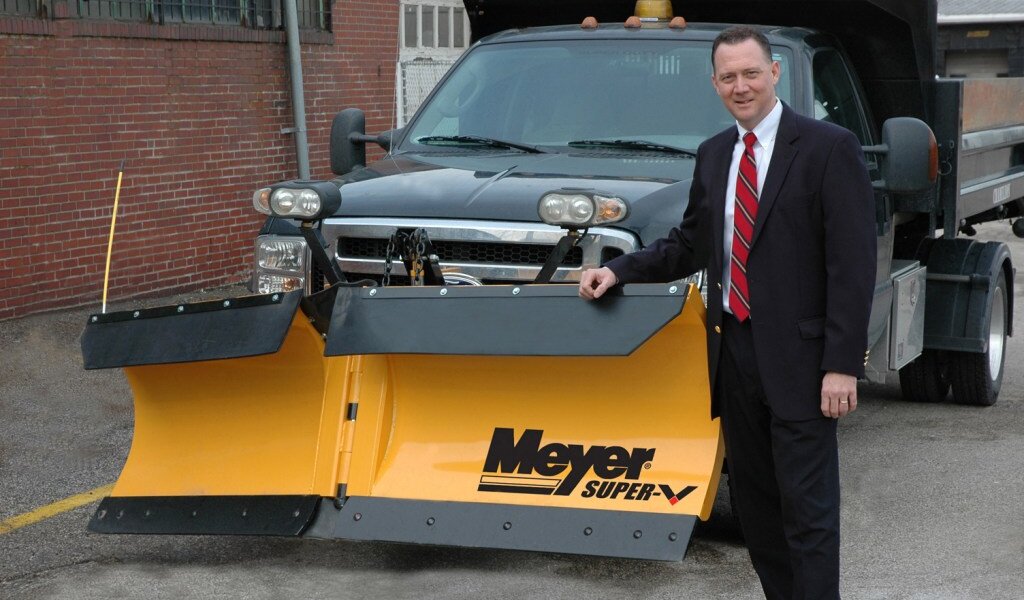 The more snow the better
HEAVY SNOWSTORMS CREATE MORE DEMAND FOR CLEVELAND-MADE MEYER SNOW PLOWS
CLEVELAND, Ohio — While most of us were basking in the warmth of unusually balmy temperatures earlier this winter, Andrew Outcalt, chief executive of ASH North America Inc., parent company of Meyer Products LLC, was hoping for snow.
That's because Meyer Products, acquired by the ASH Group in September 2015, manufactures and distributes snowplows, salt spreaders, and other outdoor power equipment under the Meyer, Swenson Spreaders, and other brands.
"I pray for snow all the time, and a lot of my friends say, 'You can stop praying now,'" Outcalt said.
Even though the blustery weather started later this year and snowfall totals are down, many of Meyer's customers and retail stores ordered based on how fierce last year's winter was. "There's a delicate balance, because a distributor doesn't want to have too much inventory on hand, but usually when someone wants it, they want it now," he said.
But sales on the consumer side of the business are noticeably down. "The warmer weather has as much of an impact as the lack of precipitation," he said. Just as shoppers weren't in the mood to buy sweaters and snow pants before Christmas, they weren't quite clamoring for new snowplows, either. "Thank God for Canada," Outcalt said.
"I PRAY FOR SNOW ALL THE TIME, AND A LOT OF MY FRIENDS SAY, 'YOU CAN STOP PRAYING NOW.'"
Meyer was founded in 1926 by Edward B. Meyer, who attached a wooden moldboard to the front of his Buick to clear his driveway, and just like that, created the snowplow industry.
The now 90-year-old business includes a briskly humming Meyer snowplow factory at 18513 Euclid Ave., on Cleveland's East Side, that dates to the 1940s.
Inside, about 150 workers mold, bend, weld, and paint sheets of steel and steel tubing into brightly colored, marigold-yellow Meyer snowplows. After three lasers precision-cut sheets of steel into smaller pieces, workers or robots will weld them into snow plows up to 11 feet long.
"Welders are the hardest skilled trade to find to staff this factory," said  Michael Moeller, Meyer's vice president of manufacturing operations, during a factory tour on Tuesday.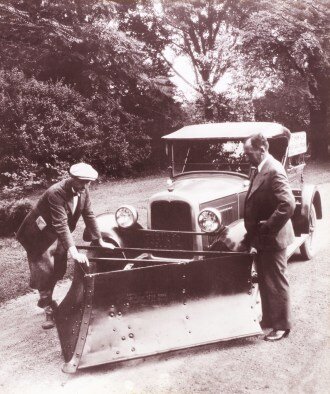 Meyer makes 60 to 70 kinds of snowplows, from residential and commercial plows for ATVs and medium-duty trucks to heavy-duty straight and V-shaped blades for industrial vehicles, the kind that clear snow from airports, highways and shopping centers. All of its snow plows are coated with a thick powdered paint that contains Teflon and is baked on so the snow doesn't stick.
"Our commercial plows have a five-year warranty," Moeller said. "These things are built to last."
Meyer also makes the mounting assemblies to attach its snow plows onto 150 different truck bodies, so the driver can control everything from inside the vehicle, as well as spreaders that throw rock salt onto icy roads. Vehicles often leave its distributorships with a Meyer snow plow on the front and a spreader on the back.
"We sell to contractors, property managers, universities, and a lot of public-sector clients like Cleveland MetroParks and the City of Cleveland," Outcalt said. "They're definitely not impulse buyers, because if there's a storm, the City of Cleveland needs to make sure they have the plows ready to go."