Multi-purpose Transporter
Aebi MT 760/770
The new Aebi MT has remained true to its principle as an all-rounder among the multi-purpose transporters (compact narrow-track transporter, agile sprinter and multi-functional implement carrier in one). Thanks to the powerful and newly developed six-cylinder turbo diesel engine the transporter offers the advantages of a compact transporter and the versatility of a large tractor-trailer combination. With a total gross weight of up to 7,500 kg the Aebi MT masters every challenge.
Highway Snow Plough
The new multi-blade highway snow plough Tarron HP-2W, with a working width of over 6m, is ideal for use on motorways, thanks to two fold-out wings and an angle of attack of 30°. The multi-blade system adapts perfectly to the road contours, even at high speeds ensuring excellent clearing results. The folding positions allow four possible working widths for large and small tasks.
Airport News 2021
The future of autonomous operations at the airport has already arrived today. Read more about it in the latest Airport News. There you can also learn about London City Airport's choice of machines to meet special needs in the event of increased FOD risk, or why our self-propelled Schmidt Supra snow blower is internally often called the «workhorse». We could recently deliver 25 of these workhorses to the Armed Forces of the Federal Republic of Germany.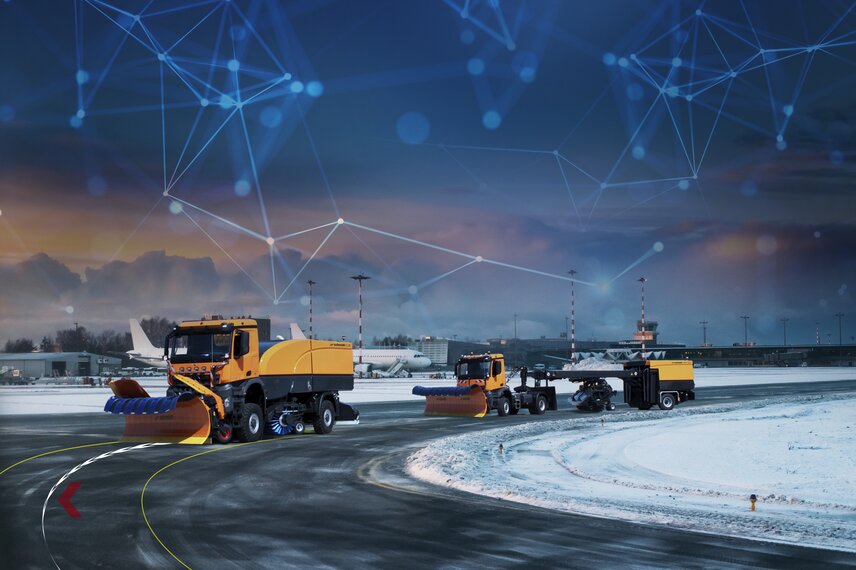 Winter Maintenance Professional
Aebi Schmidt is known to be one of the world's leading suppliers of winter maintenance vehicles and equipment. We offer a uniquely wide range from mounted snow ploughs, truck or Unimog spreader superstructures to airport gritting and spraying equipment or self-propelled snow blowers. In order to get the best possible and above all safest performance out of the equipment, we also offer driver assistance and digitally networked systems that have been tried and tested for decades and are constantly being modernised.
New Flexigo 150
The unbeatable all-rounder for roads and green spaces
The Flexigo is simultaneously an equipment carrier, compact sweeper and snow clearing machine. The sweeper container can be easily replaced with a spreader or the plough with an alluvial or mowing machine. The Flexigo thus becomes your loyal companion 365 days a year. It is extremely manoeuvrable thanks to its articulated joint, can be driven with a normal car driving licence and bears the ergonomics seal of approval of the Healthy Back Campaign. The Perkins diesel engine with 75 hp meets the EU environmental standard level 5 - in short, a maintenance-friendly and therefore sustainable and economic investment that convinces management, the public and machine operators at the same time.
Spare Parts
Are you treating your machines right for best performance by keeping them original this winter?
Aebi Schmidt's genuine spare parts are designed to meet the demands of harsh operating conditions and contribute to the operational safety and longevity of all your machines. Our central logistics centre in Laatzen, Germany is adequately stocked to support you. We can quickly ship your order to any country in the world to guarantee uncompromising operational reliability 365 days a year.
Visit your local dealer or our online shop to manage your machines, place spare parts orders or access machine documentation.