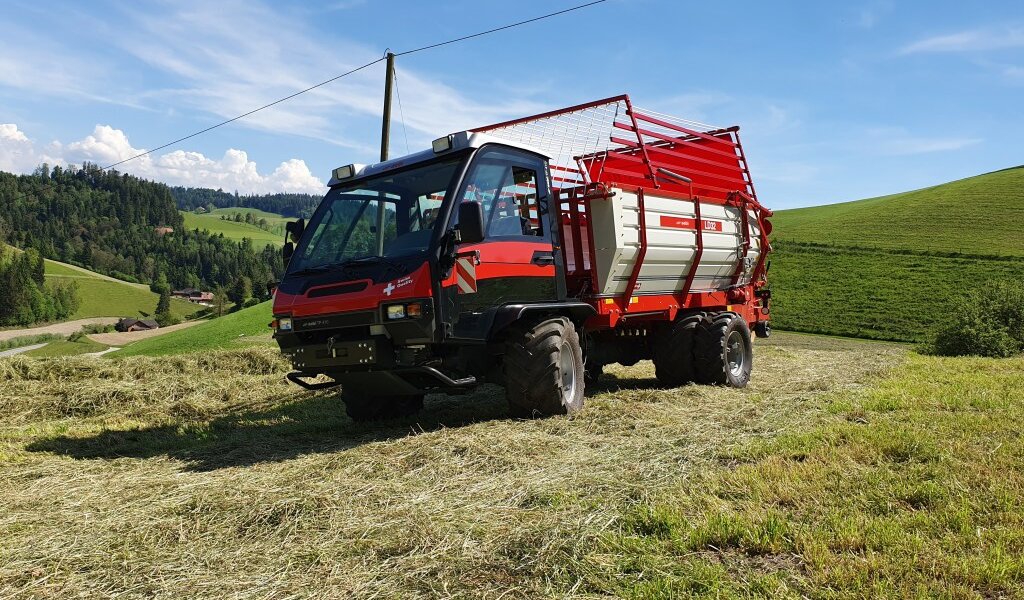 TP 410 – a swift, sprightly specialist
Aebi has unveiled its new transporter. The small and nimble vehicle boasts 75 hp and 1616 reverse transmission. We were able to watch a test drive in Emmental, where several demonstration units are already in operation.
As soon as the key turns, the four cylinders inside the Kubota engine with its 3.3-litre capacity and output of 75 hp start working. Engage the gear, choose a direction and you are good to go. The TP 410, Aebi's new compact transporter, is beautifully simple. Its series production will start in Burgdorf (Bern) in August. But let us start at the beginning.
Agile and nimble
The TP 410 will be available with a choice of two wheelbases: either 2.75 metres or 3.15 metres. During the test run in Emmental, we got to watch the small Aebi transporter with the shorter wheelbase in action. Equipped with a manual 1616 gear reversing transmission, the TP 410 reaches a maximum speed of 40 km/h on paved roads. It also features pre-selectable half gears.
Add to that its front steering, the longitudinal and lateral differential locks and the optional double tyres and voilà: the TP 410 is an off-road talent, too. Its great manoeuvrability is a real help: the demonstration unit with the short wheelbase has a turning radius of just 5.7 metres, thanks to its hydrostatic steering system with a 45° steering angle. The smallest Aebi transporter series does not come with four-wheel steering, but that is no downside: the compact vehicles can easily do without. Hydraulic skew suppression is optionally available.
And no vehicle is safe without reliable brakes: a hydraulic external power dual-circuit braking system and the optional spring-loaded brake keep the TP 410 secure while in motion or at a standstill.
Well-lit cabin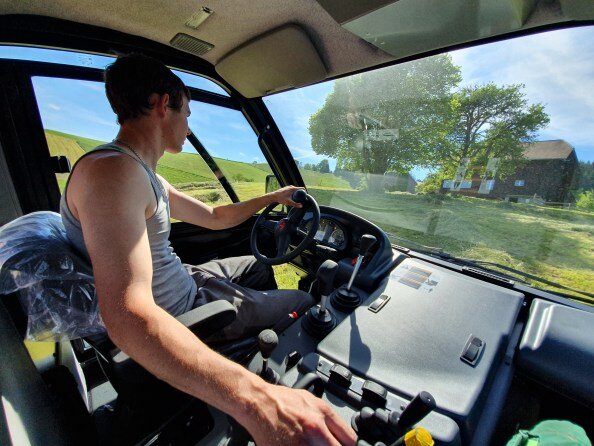 The controls in the TP 410 cabin are easy to use and clearly structured. Drivers can find their bearings effortlessly. And they will be comfortable, too: the new cabin feels like a living room. It is well lit and unusually spacious for this class of transporters. Aebi has given its TP 410 brand-new glass doors for greater clarity and a better design.
Its modernised dashboard instruments present all the important operating conditions on a well-designed colour screen. The angle and height of the steering wheel can also be adjusted. To make the work even more pleasant, the TP 410 optionally comes with an air suspension driver's seat and all sorts of modern accessories, such as a mobile phone holder, 12 V socket, or DAB+ radio.
A little big shot
Aebi's latest transporter boasts an unladen weight of 2,350 kg. Combined with the total permissible weight of 6.5 tonnes, its theoretical load capacity is 4,150 kg: a solid value for a vehicle of this size. Aebi offers a large selection of tyres ex-factory. The basic version of the TP410 is available from CHF 99,500.
Aebi's compact TP 410 was developed to meet the needs of alpine agriculture. It is ideal for family-run businesses in mountainous regions. The family who tested the TP 410 already owns an Aebi transporter, and they were thoroughly impressed by the nimble little machine.
Resource: https://www.schweizerbauer.ch/landtechnik/neuheiten/flinker-und-spritziger-spezialist-49866.html