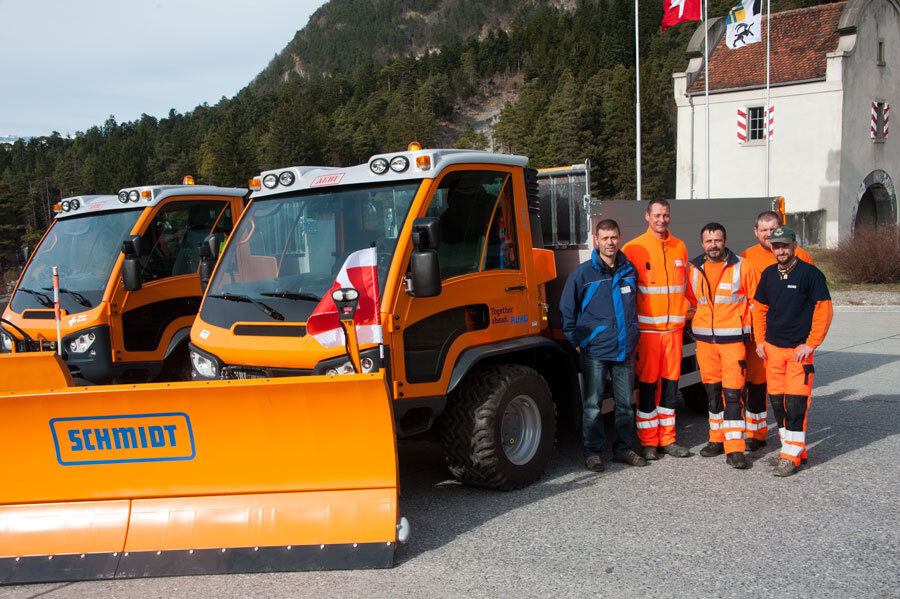 The Aebi VT450 Vario "All-Purpose Weapon" On Duty for Ruag Schweiz AG
They are the new "all-purpose weapons" for RUAG Schweiz AG when it comes to maintaining the firing ranges, training facilities and the barracks area in Luziensteig and Walenstadt: two Aebi VT450 Vario vehicles not only provide winter maintenance services, but are deployed all year round for maintaining general areas and infrastructure.
"The Walenstadt and Luziensteig training grounds, which are reserved for combat training by the military for an average of 48 weeks per year, cover 220 hectares and 75 hectares, respectively. Accordingly, optimum infrastructure and a high level of safety must be guaranteed at all times," says Ivo Zimmermann, head of the infrastructure department at RUAG Schweiz AG. "Our tasks here include, for example, winter maintenance, i.e. clearing the access roads and the combat areas. But the work also involves general maintenance, such as mowing the areas of grass in summer, cutting hedges and getting rid of cuttings and dredged materials as well as spreading wood chippings in the bullet capture range, along with removing leaves in the autumn or maintaining the roads and paths on the sprawling site. If the weapons training area is being used, we also ensure that areas which are otherwise open to the public are cordoned off as required, and transport materials that are needed, for example targets, from A to B. So we use the two Aebi VT450 Vario transporter vehicles in a variety of different ways. As a winter maintenance vehicle, they won us over primarily with their stepless drive and high performance capacity. With the previous fleet of vehicles this was very laborious because the constant operation of the clutch with the manual gearbox not only produced a high level of wear on the machine, but was also extremely inconvenient for our drivers. But the versatility and the great manoeuvrability on off-road terrain was also a key selling point. Whereas previously multiple machines were required, now we just need one. For example, a VT450 Vario was also equipped with a leaf collector. Mountains of leaves and foliage that are amassed every autumn can now be picked up and transported away with ease. Not least, the good service and contact with the Good Machine Centre in Mels also persuaded us to choose the Aebi transporters. For many years, there has been a very good relationship with the service team in Mels and we know that, if there are any questions or service is required, we can count on rapid responses at any time. This is also particularly important because the vehicles will be in use for many years and we therefore need to maintain the quality of the vehicles over a long period of time."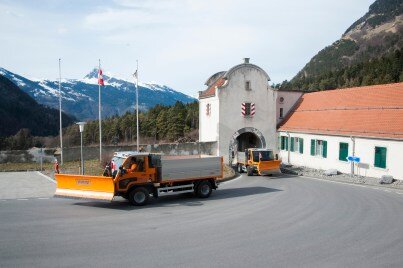 We wish the two Aebi VT450 Vario vehicles safe and successful travels at all times and hope the team at Luziensteig and in Walenstadt get a great deal of pleasure working with their new "colleagues".