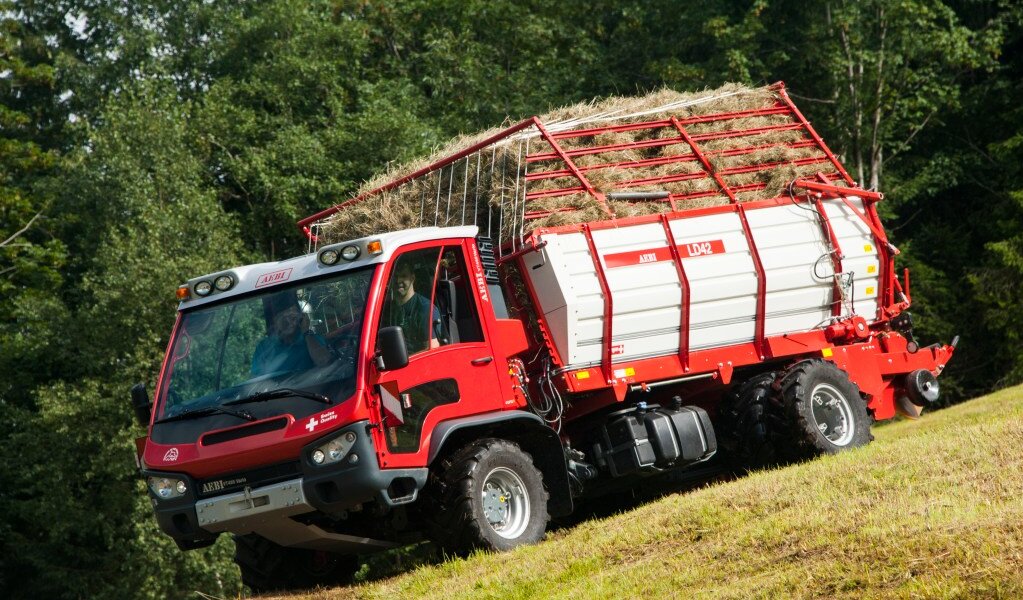 Double Victory for Aebi at "Tractor of the Year"
Aebi VT450 Vario and Aebi TT211 Autonomous convince readers of the magazine "Schweizer Bauer"
Every year the reader of the Swiss magazine "Schweizer Bauer" are allowed to elect the Tractor of the year. In 2017 the Aebi VT450 Vario was convincing, gathering 27% of the votes closely followed by the Terratrac TT211 Autonomous. "We are happy about the double victory in the category of mountain technology and that we achieved top rankings among the 10 special equipment's standing for choice", said Marco Studer, Managing Director of Aebi & Co. AG Maschinenfabrik. "After the Swiss Innovation Award this is the second award within a short period of time. We appreciate the end users' trust in our products and the interest the TT211 Autonomous received since its market introduction. We are convinced that the right balance between proven technology, high quality and our ambition to push innovation is the right choice for sustainable success. To be always one step ahead requires a high commitment of the employees and a certain dose of courage. Therefore, the positive feedback of the customers is even more rewarding."
With its 109 HP and four cylinder turbodiesel, the Aebi VT450 Vario Euro 6 is the high-end transporter model from Aebi. With the new model, Aebi is the first manufacturer worldwide to build transport vehicles with a stepless drive and fulfils a long held demand of many customers. The new VM Turbodiesel fulfils Euro 6 and works not only very cleanly and in a very fuel-saving fashion, but is more powerful and a high torque of 420 Nm. This increase in performance and the modernised control concept, with a new multi-functional accelerator lever and a new colour display as well as the best suspension in its class makes the Aebi VT450 Vario the perfect place to work.
Presented in summer 2016 the Aebi TT211 with the autonomous driving option is a GPS-guided, driverless, double-axle implement carrier, planning its route automatically within the predefined field of work. Furthermore, remote controlling is possible for up to 400 meters. The vehicle is eminently suitable for the maintenance of all kinds of green spaces – in both sloping and flat terrain. Of course, the Aebi TT with the autonomous driving option can also be driven manually and used with a wide variety of attachments.