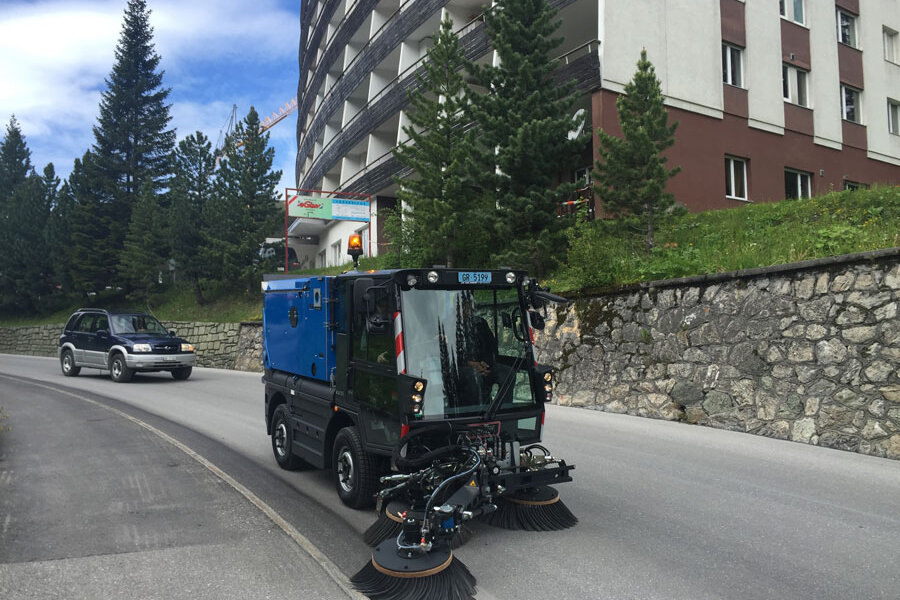 Sweeping where others go on Holiday
AEBI SCHMIDT COMPACT SWEEPER GOES TO AROSA
The community of Arosa in the canton of Graubünden in Switzerland is not just famous far beyond the borders of Switzerland as a winter sports region. The area situated at an altitude of 1800 metres above sea level is also very popular among tourists from Switzerland and abroad outside of the winter season, with around 1 million overnight stays every year. The local building authority led by workshop manager Erwin Schmid therefore attaches great importance to ensuring that the streets and squares in this community with 3300 residents are always kept clean and tidy. This was previously done using an compact sweeper from Aebi Schmidt. However, after nine years of service it was time for this machine to be replaced. Extremely satisfied with the cleaning performance and the reliability of the "old lady", it was not a difficult decision to conclude that another model from Aebi Schmidt should be chosen.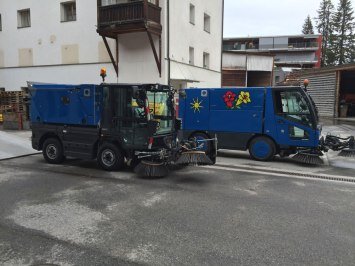 This is one of the latest generation of sweepers and, with the Koanda air circulation system and pressurised water recirculation system for which a patent is pending, it is the most environmentally friendly compact sweeper available in the market. The new system reduces emissions of harmful particulate matter by up to 95% and water consumption is reduced considerably during sweeping, as are noise emissions. This was another important aspect for those in charge at the local building authority because equipment that cleans should also be clean itself and help to ensure that resources are used sparingly. Arosa is regarded as a real shining example when it comes to climate protection and sustainability. The holiday region gradually wants to work with its partner community of Carezza to evolve into a climate resort in which guests can enjoy ecologically sustainable vacations with a clear conscience.
In time for the new summer season, Guido Anderhub, sales consultant and the expert on sweepers at Aebi Schmidt Switzerland for the last 44 years, has now handed over the new sweeper in "Arosa blue" to workshop manager Erwin Schmid and Roger Friess from the building construction and civil engineering office. We are proud to be able to continue the tradition in Arosa and wish the team from the local building authority a safe and successful drive whenever they are sweeping the streets.