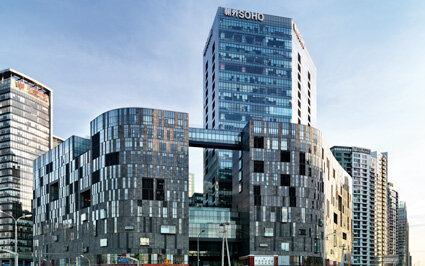 ASH Group expands in Asia
NEW OFFICE IN BEIJING SETS COURSE FOR FURTHER GROWTH OF THE BRANDS AEBI AND SCHMIDT ON THE ASIAN CONTINENT
The ASH Group expands their global presence with the opening of a new office in China on 1st June 2016 and sets course for the growth course in the Asia-Pacific region. An experienced team will serve customers from Asia as well as Australia and New Zealand from the bureau in Beijing.
"For us the Asia-Pacific region is an important growth market with great potential", says David Achermann, General Manager of ASH China and head of the bureau in Beijing. "The demand of our products in the Asian region has steadily grown over the last few years. With our local office we will be even closer to our customers and can better adapt to country specific requirements as well as cultural characteristics."
Growth drivers on the Asian market especially are sustainable technologies in the sector of airport- and municipal technologies. The new bureau in Beijing is therefore an important step for the ASH Group and an investment in long-term customer relationship.
As a leading system supplier for innovative technical products for cleaning and clearing of traffic areas our product portfolio contains own vehicles as well as innovative implements and attachments for the individual vehicle equipment. The brands Aebi and Schmidt are not only in Asia known for "best quality" and "best service". Special equipment from Schmidt is now found at nearly all airports in China, which have to contend with snow and black ice due to their geographical location.
Until 2020 the number of airports in China is to grow from now 175 to more than 200. Furthermore, the goal of the Civil Aviation Administration of China CAAC is that 82 percent of the Chinese population (about 1.07 billions) will be able to reach an airport within 100km – today this is the case for about 60 percent (approximately 780 millions).
In addition to a new awareness of mobility and traffic, China is also seeing increasing requirements for efficient and sustainable technologies. "We are noticing that topics such as 'smart airport', automation and enhanced efficiency are increasingly gaining significance in the airport business", says David Achermann. "Furthermore the reduction of CO2 emissions is gaining more importance in the light of the growing environmental awareness and the demand for high-value and durable products is increasing. Needs which we optimally meet with our products for example with the first CO2 neutral sweeper, the Schmidt TJS or with one of the most efficient automotive sweepers available on the markets, the Schmidt Swingo 200+."
The office is located in the heart  in the center of Beijing's CBD and in the most concentrated business area.
Chaowai Soho, Building A, Room 5007
6 Chaowai Dajie, Chaoyang District,
Beijing 100020
P. R. of China